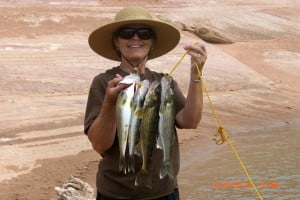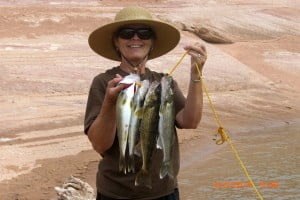 Photo:  Sharon Hunt, Spring Valley AZ, spend a week fishing Lake Powell and caught a mixed bag of walleye, stripers, bass and crappie.  May is the best time to catch a variety of fish.Cool spring temperatures have delayed  the best fishing which will now occur the last two weeks of May. 
Lake Elevation: 3580 Water Temperature 57-65 F
The good news is that lake elevation is now high enough to wet the Castle Rock Cut.  Water is not yet deep enough to allow boats to travel through but that will happen before the next fish report for small boats with a shallow draft and Captains with excessive courage.  With predicted warming this weekend more snow will melt making the Cut passable for most boats by Memorial Day.  
Warm weather is long overdue.  Morning water temperature has been below 60 degrees all spring. Over the past 10 years water temperature on this date exceeds 60 degrees 70% of the time. This morning it was 57 F – Again! Cold water has prevented bass anglers from finding bass in the manner to which they have grown accustomed. The delay has been noticed by many.  Usually bass fishing in May is off the charts. This year only smaller bass are active.  The key to catching bass in cold water is to down size lures, slow down presentations, and to fish in the warmest water available.   Largemouth bass and crappie will be found swimming together under floating tumbleweeds in the backs of canyons and coves. It is challenging to catch fish from the sticky weed beds but it is possible.  Rising water will cover live tumbleweeds growing along shore and within two weeks will flood year-old tamarisk trees.  This cover will quickly be occupied by brush-loving fish and provide needed refuge for young bass and crappie recently spawned.   
 Good news for bass anglers is that water will warm this weekend and bass action will greatly improve when water temperature exceeds 64 degrees. That will likely occur only in the afternoons this coming week.   So in the mean time —   Best fishing this week has been found in sweet spots in the backs of canyons.  Main channel water is cool while protected spots in colored water in the backs of canyons may be 10 degrees warmer.  Reports are trickling in where anglers have found active shad spawning in the backs of remote canyons. These shad are surrounded by hungry fish including stripers, walleye, crappie and bass. The best catching reports are coming from the Escalante while the San Juan has been less productive.  
Stripers in the southern lake are best caught by trolling and casting in the backs of canyons where bottom depth is 25 feet. Stripers are scattered as they forage on plankton near the surface. Some fish are still being caught sporadically on bait but fishing in the backs of canyons is now more productive.  Midlake bait fishermen are doing well near Moki Canyon.    Spring runoff has started and made water murky in the main channel all the way to Bullfrog Bay.  The mudline is now at the lower end of Good Hope Bay.  North lake canyons away from the main channel still provide good fishing without muddy water and will have that sweet spot in the back of the canyon where all species of fish are now co-mingling.   Walleye fishing is at its spring peak. Worm harnessed night crawlers fished slowly on bottom in 6-15 feet of water are working very well.  Walleye fishing is best from the north mudline down to the Escalate Canyons.   Normally best fishing in May is found during the first two weeks. This year the best fishing will be during the last two weeks of the month.