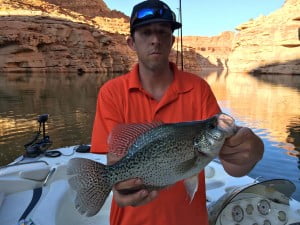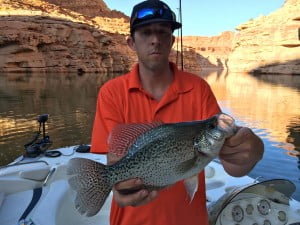 Photo caption:  Dan Kennedy, Spanish Fork UT, found good crappie fishing near Bullfrog by searching the floating tumbleweeds in the backs of canyons.  Brush is out of the water until the lake comes up more so for now look for floating cover to find both crappie and largemouth bass. Finding fish in Lake Powell is always an incredible adventure.
Lake Elevation: 3578 Water Temperature 59-69 F
May is here and water temperature is in the 60s which means spring fishing is at its best.  Cold fronts will still slow down catching for a day or two but on most days fishing will be excellent.    Here is the room service menu for spring fishing in order of availability.   STRIPED BASS: Bait fishing along the canyon walls is good in the normal spots.  Spots close to the marinas will provide good catches for those looking for a good, close fishing trip. But the results are sometimes long awaited and time spent at the Dam or on Moki Wall could actually have been more productive in another spot.
My recommendation for better fishing results is to head to the back of the major canyons where water clarity is reduced by runoff and waves. Begin fishing where water color changes from clear to green or murky where bottom depth is 35 feet or less. Troll to locate scattered stripers with crankbaits that run at 12-20 feet. Watch the graph for schools and fish traces.  Hooking a fish is just the beginning of the adventure.  The first fish marks a productive location where other stripers can quickly be caught by casting around the boat with crankbaits and by dropping spoons to the bottom. Other stripers follow the hooked fish and come in range while the first fish is landed.   After 10 minutes of casting without further results, continue trolling to locate a new aggregation. Stripers are feeding on plankton in the upper 20 feet of the water column and are more than willing to eat a fish (crankbait) that swims into their personal space.   HINT:  Striped bass fishing is "on fire" during the first hour of daylight right now!  Be out there when the sky lightens in the East and before the sun hits the water.
WALLEYE:  This is walleye month and they are the second most common fish to catch. Choose muddy to murky water in the backs of canyons where bottom depth is 7-25 feet.  Walleye like to hang near structure such as a rocky point or hump where they can wait to ambush a forage fish that swims in range.  Techniques include slow trolling with flat line, bottom bouncing with live worm or jigging with plastic tubes and grubs.  The common theme is to put the lure or bait on bottom and slowly move it along until walleye find it. These light sensitive fish are best caught in low light early or late in the day.  They feed all day long with water temperatures in the 60s so fish on the shady side of a rock or under a mudline caused by wind or wave action.    HINT:  Live warms attached to plastic grubs increase catch rate. 
 SMALLMOUTH BASS:  Some bass have spawned once but with this springs' sporadic weather the main spawn will happen this week. Fish clear water to sight fish for bass on nests.  It is more difficult to see fish now with water level increasing but bass on beds can be located and caught.  If a bedding fish won't bite because the boat got too close the first time, just mark the spot and return an hour later and throw a long cast to complete the task.
CRAPPIE:  Crappie and largemouth bass are searching for cover for spawning and habitation.  A bumper crop of tumbleweeds were blown into the lake this spring. Now, with rising water the weeds are submerged and provide the needed cover. Find the huge floating tumbleweed mats and fish under and along the edges for the brush loving fish.  These mats of floating weeds may provide the nasty cover necessary for the 2014 crop of bass and crappie to survive in larger numbers.  They have arrived at just the right time.   Oh, Lake Powell!  It is always a challenge to keep up with what the fish are doing.  But meeting the challenge is incredibly enjoyable and satisfying.