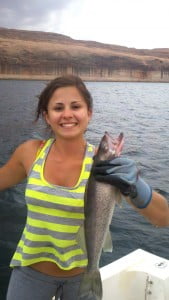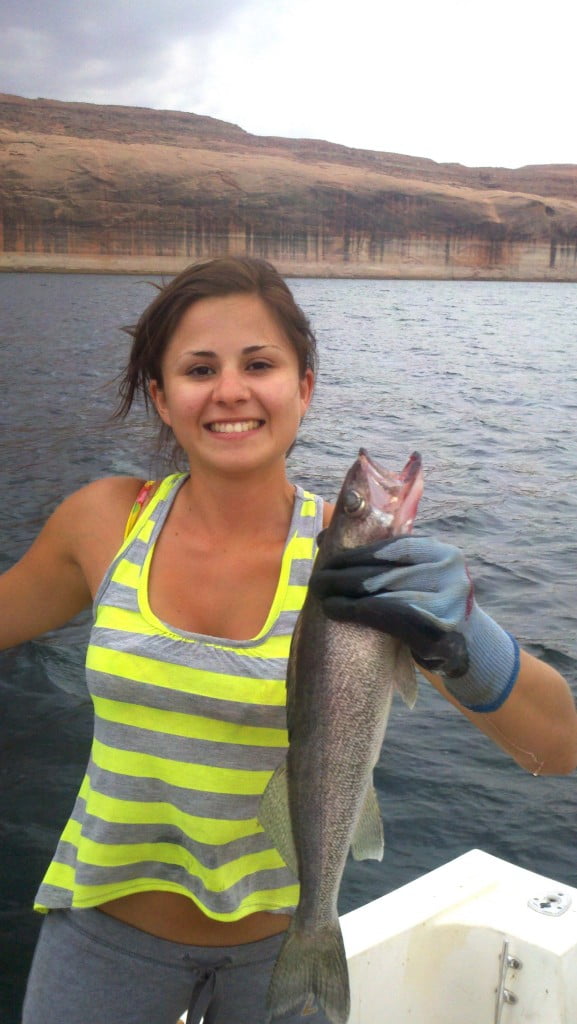 Photo: Vikki Berrera, Phoenix AZ, displays a nice walleye caught near Moki Canyon in April.  Walleye fishing will get even better in May
 Tip the plastic jig with a live worm to target walleye
Lake Elevation: 3577 Water Temperature 56-60 F
Great News!  The cold wind that has been blowing non-stop is going to soon be gone. Lake temperature has dropped back down to 56 degrees in the mornings but it rises to 60 by evening. That has slowed bass and crappie spawning.  Looks like all of us are just waiting for that warm weather, which begins this weekend. Then it will be party time.   More great news! The Castle Rock Cut deepening project is now complete. The Cut was taken down to elevation 3580 after 300,000 cubic yards of material was removed. At this elevation the Cut is 1-mile long.  The lake will flood the Cut by rising just 3 feet. Boats can cross with an additional 3-5 feet of elevation increase.  The lake rose 18 inches last week. At that rate look for the Cut to be open for Memorial Day.
Want More?  Striper fishing is wide open on bait and lures.  Bait fishing at the dam is spotty but there are some really good spots that take up the slack.  Here are some good choices:  Lone Rock Canyon, Buoy 3 on the south corner just before Antelope  Canyon, Navajo Canyon from the double islands all the way to the back of the canyon (Check any rocky point from the Sand Dune to the end), Piute Canyon, Last Chance, and Rock Creek.  Most successful fishing depth is 24-30 feet.
Bait fishing gets better mid lake. The mouth of Moki Canyon is hot.  Also check mouth of Lake Canyon and Slick Rock.   Trolling, casting and spooning is still good in the backs of canyons with a flat flood plain in the murky water section where bottom depth is 25 feet. That has not changed during the month as water temperature has stayed the same and prolonged the early spring fishing. Warming will only make that better.    Northern lake has lots of mud coming downstream with the spring runoff. The Mudline is between Ticaboo Canyon and Buoy 119. Heavy mud (chocolate milk color) makes it difficult to catch fish while light murky water is great.    Target walleye if going north from Bullfrog.  Tip a plastic grub or tube (white or green) with a 2-inch piece of worm and then slowly drift along the shoreline while dragging the bait and maintaining bottom contact at 15-25 feet.  Walleye fishing will be at its peak during the next 5 weeks.
Bass and crappie will finally have their day as water temperatures will climb into spawning range during the first week of May. Bass will move shallow to build nests but sight fishing will not be perfect as the lake is climbing at the rate of over 18 inches per week. That puts some stain in the water and reduces visibility.  Search rocky structure with drop-offs near shore for best results. Use senkos, tubes and grubs on lead head jigs but shad shaped worms on a drop shot rig might be working better than any of the others.   Some of the best bass spots are Padre Bay canyons, Rock Creek, San Juan, Escalante, Iceberg Canyon, Annie's, Slick Rock, and Halls Creek.
If heading north from Bullfrog, remember the mudline and fish the canyons instead of the channel where heavy mud is present.   Fishing in May at Lake Powell will be at the spring peak.  Use your favorite technique, lure or bait to catch a variety of fish. You can use a fly rod, troll, cast, or fish bait to catch all the species that swim here. The right time is now.