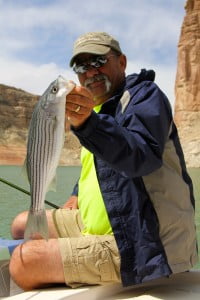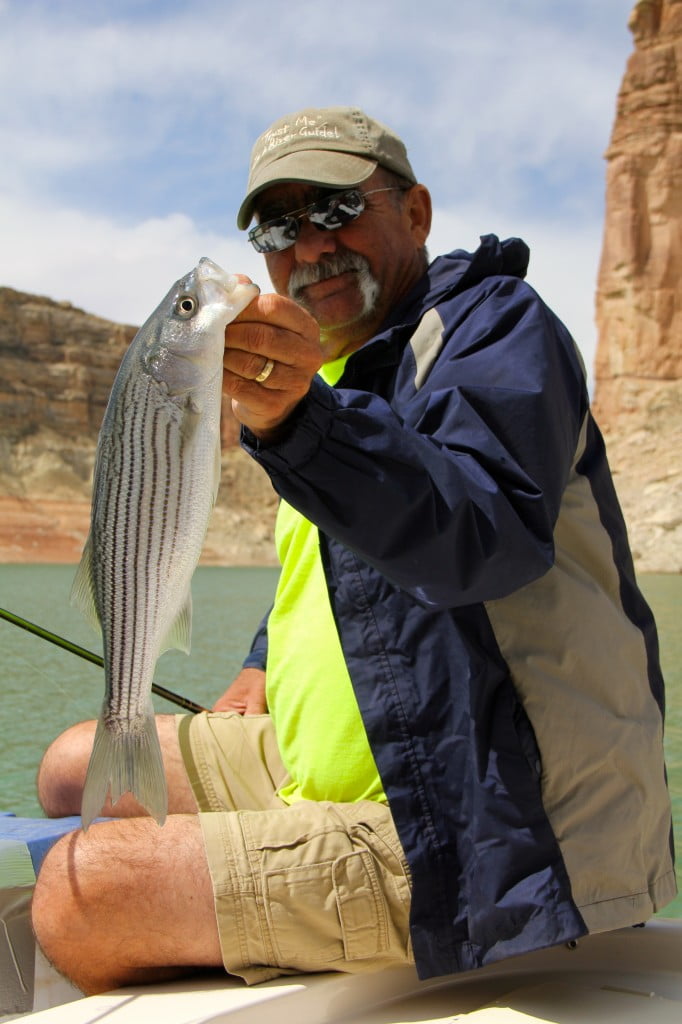 Photo Caption:  Carl Lind, Wittmann AZ, caught this 3-pound striped bass in Last Chance Bay trolling a shad rap.  Striper fishing is much better this week as stripers are chasing shad to the surface each morning and evening.  Stripers are FAT after gorging on a bumper crop of shad. They are very strong fighters and are willing to hit surface lures.
August 27, 2014 Lake Elevation:
3606 Water Temperature
77-80 F
Reports of stripers feeding on the surface really had me invigorated this morning.  We took off for Navajo Canyon at first light and studied calm water at the mouth of the canyon where boiling stripers had been caught in big numbers the day before.  A few fish broke the surface but we could not identify any stripers.  The next decision was to wait for the action to start or to travel up canyon.  I waited about 10 seconds and then decided to go uplake because patience is not one of my virtues.   It seemed like a good choice as scattered stripers were breaking the surface just past the double islands. My first cast to a surfacing fish was rewarded with my first striper caught on top water this month.
Stripers were surfacing all around the bay but were not bunched up. They appeared to be feeding individually instead of in a school.  Since these stripers were lacking school mentality we decided to troll and caught a few more fish on Shad Raps and Bevy Shad. We saw a few more individual splashes as we traveled to the Big Sand Dune where we turned around.   On the way back down the canyon we trolled near shore by rocky points and rock piles.
Smallmouth bass were obviously feeding on shad as each rock pile paid off in at least 2 bass and occasionally in another striper.  Our largest bass was almost 2 pounds.   The next stop was the mouth of Warm Creek on the shoals marked by white buoys. We trolled there and found more bass ready and willing but the average size was smaller than those caught in Navajo.  We picked up one larger striper while trolling the shoals which was 19 inches and 3 pounds. These stripers are very fat! That bodes well for fall fishing ahead.
Upon my return it was reported that the boils at the mouth of Navajo were strong between 8-9 AM. Oh Well! That's fishing!   The northern lake is still the best striper fishing location with The Horn being the most consistent spot.  But reports from Escalante and Rincon were received this week.  I think the whole lake is now fishing well with small quick boils occurring for the first 2 hours of daylight and last 2 hours at evening.  If more than 5 fish are breaking the surface attack them with surface lures and shallow runners. If only one fish is seen, then troll in the area of the splash with medium runners that dive 12 feet.
Bass fishing has improved dramatically with the drop in surface water temperature into the 70s. Bass are hanging on the deep water edge of rock piles extending into the main channel.  They will hit surface lures early and late but may be caught more frequently on plastic grubs in shad colors all day long.   Fishing has definitely improved.  Looks like it is time to plan the fall fishing trip to Lake Powell.