For some unknown reason on certain days one lure will work better than another. On this trip the Bomber Flat A in shad color worked the best. This lure is pictured here so you can see the colors,,,,and the fish.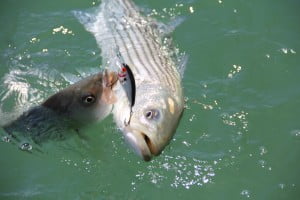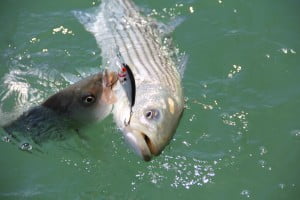 Lake Powell Fishing Report

August 20, 2014
Lake Elevation: 3607
Water Temperature 78-83 F
By: Wayne Gustaveson

Lake Powell fish are getting fatter. That is a good thing coming off a difficult year with low water and very little brushy habitat. Our studies show that the shad population is nearing a peak not seen in this decade. Lakewide shad numbers from our first shad trawl in July are well above average from Wahweap to Good Hope with Bullfrog showing the most shad of all stations. The August trawl sample next week will determine the strength of this year shad class. The large shad population probably has much to do with the challenging fishing results found over much of the lake.

Fishing is best in the northern lake. Stripers are still boiling from Bullfrog all the way to Horn (Buoy 129). The boils are much quicker than found two weeks ago but they are consistent. Stripers are feeding both in the bays and in the backs of canyons. It takes patience but those that search aggressively are finding boils and catching a respectable number of stripers. These stripers will hit topwater lures or shallow running crankbaits or medium sized spoons.

In the southern lake finding fish is less certain. There are few fish reports with lots of recreational boaters still wake boarding and tubing. An early start is recommended to avoid boat traffic and wakes. I headed through the Castle Rock Cut at first light and saw a splash on the Warm Creek side. As the boat slowed to a stop a surface lure was ready to cast but no other splash followed. However, the graph showed a fish school at 45 feet so a spoon was dropped instead. A fish hit the spoon on the first hop and quickly came to the boat. To my surprise the expected striper turned out to be a walleye. The spoon was deployed again and another fish caught. This one was a catfish! Both fish were eating shad. It turned out to be one of those crazy days.

Trolling and graphing for stripers turned into a smallmouth catching experience. The best trolling lure this day was the Bomber Flat A in shad color. The habitat bass chose was near a gentle sloping brushy shoreline where bottom depth was 15-20 feet. Smallmouth stomachs were empty except for an occasional crayfish.

Fishing in the southern lake is still a mystery. A solid pattern has not been identified. The most consistent striper spot is Navajo Canyon but stripers are moving up and down the canyon and changing feeding times. One day small boils will be found at dawn near the canyon mouth while the next day small boils will occur at 11 AM near the big sand dune. This sums up the fishing pattern. Fish are where you find them. I will try to make more sense out of this by next week.