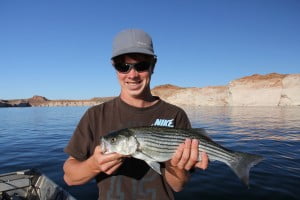 Photo caption: Dallin Trotter, Cedar City UT, caught some nice fat stripers in early morning striper boils in the main channel near Navajo Canyon. Striper boils are getting bigger and mor…e numerous as the lake surface temperature cools.
Navajo Canyon continues to be the best spot for striper boils in the southern lake. Lacking any other reports we headed back to Navajo to glean additional information for this week's report. No surface action was seen in Wahweap or Warm Creek but as soon as we saw the mouth of Navajo Canyon there were small groups of stripers hitting the top.
That is where it got frustrating. The surface lure (Lucky craft Sammy) hit the water and stripers pushed the lure around but would not hook up. It was fun to see the swirls and splashes around the lure but we wanted to catch some fish. We took off the topwater lures and cranked down with shad raps, rattletraps, and pointers. No fish were seen when we were ready to cast again so we trolled where the last small boil was seen. We caught two stripers right away but then it was over. We quit trolling and ran back from the mouth of Navajo toward Warm Creek looking for the next school.
Good choice! We found larger schools working the surface as the sun hit the water but sometimes had to run a mile to find them. When we got in casting range, and stopped in range, but not too close, then made good casts we could catch 2 stripers out of each pod of stripers. After they went down (usually less than a minute) we would run again. We stayed busy running in the main channel and casting from 6-8 AM. As the action died in the main channel we went up Navajo Canyon looking for boils in the shade of the steep cliffs. We found a few more boils and caught more fish. We ended up with 23 stripers in 3 hours which is the best we have done this fall. Boil fishing is getting better. It looks like it will continue to improve each day due to the strength of the threadfin shad population.
The best reports this week featured the San Juan from Wilson Creek to Neskahi Bay. Stripers continue to boil in good numbers there both morning and evening then randomly throughout the day. No reports came from the northern lake but the size of the shad population makes it seem likely that boils are happening early morning there as well. We found surface action from first light to 8 AM MST. It is quite likely that the early morning boil pattern occurs lakewide.
Bass fishing continues to improve as well. Just remember that bass are feeding on shad along with stripers. That means they are more likely to be on rocky main channel points than in the backs of coves. When shad move out of the channel to avoid stripers then bass fishing will change accordingly. Right now white or silver crankbaits, white flukes and D-shad and white plastic grubs are good shad imitations. Shad stay near the surface so work the flukes and shad imitators near the top early morning and then deeper during the bright light of day.
It has been a rough couple of years with the declining lake level, loss of habitat and downsizing of fish populations. Now that is behind us and all fish species are rebuilding. Threadfin shad had a banner year and provide the bulk of open water forage. Bass, stripers, alleye are all eating their fill and growing FAT and sassy. Fall fishing will be outstanding!