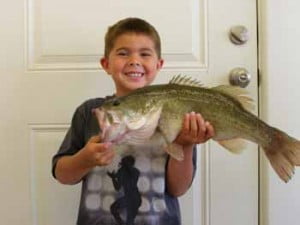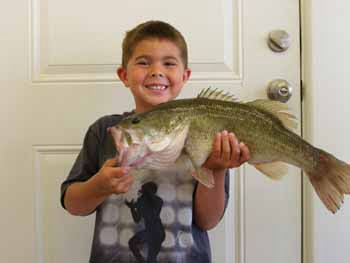 Photo Caption: Shane Spravzoff, Flagstaff, AZ, caught some nice walleye at Lake Powell.  May is the best time to find these tasty food fish.  Fish under mud lines in the main channel for best results.
Cold windy weather stalled much of the expected spawning activity this past week. Runoff slowed allowing the lake to rise only one foot in a week. Surface water temperature has been in the mid 50s most mornings. But that is now history and a new warming trend is developing.
The modest rise in lake elevation means that clear water still exists in the main and southern lake. Backs of canyons and coves still offer the opportunity to sight fish for spawning bass and crappie. At the inflow areas the mudline extends from Hite to Good Hope Bay. In the San Juan and Escalante cloudy muddy water is only a moderate threat in the last few miles nearest running water.
 
New warming will increase water temperature back into the 60s and make it unlikely that a return to the 50s will happen. That will allow bass and crappie to move back on nests for one final spawning event. Nests will be found at depths of 5 to 8 feet making them visible in many locations. Lures and techniques that have been working for the past month will still be very effective. Smallmouth bass like plastic grubs and tubes fished on rocky points. Largemouth and crappie will be in the tree line and susceptible to slow sinking, weedless rigged plastic double tail grubs and senkos. Spinner baits work well for both species. Bass like the big flashy blades while crappie are suckers for little spinners like Roadrunners. The old standard chartreuse marabou crappie jig is still a winner. Enjoy bass and crappie fishing for one more week before the runoff heats up and the nests get lost in rising water.
Walleye fishing is nearing its peak. Don't expect to catch daily limits of the tasty food fish but a few can now be caught while fishing for bass. It is possible to troll crank baits or drag worm harnesses along the bottom for walleye. Use afternoon wind induced mudlines as one key to find productive spots. Main channel points, plunging into deep water, are a good place to start.
Striped bass are forming large schools in almost every canyon as they prepare to spawn. The spawning trigger is a rapid rise in lake temperature. Unfortunately, the prespawn period is about the only time that stripers are off feed and difficult to catch. Big schools have been seen cruising the shallows but attempts to catch them have been ignored. There are isolated events like windy feeding opportunities or fleeing shad schools that will ignite the large schools into a feeding frenzy. Be aware of the possibility that a striper school could show up at any moment. React to that event when it occurs because it will be a memorable experience.
Threadfin shad will spawn this week as morning water temperature reaches 65-70. They spawn at dawn so get up early to throw shad imitating rattletraps or crankbaits in the back of canyons and coves. All game fish enjoy the shad spawn as a line of tasty forage fish swims along the surface readily visible to anglers and game fish alike. Find spawning shad and catch bass and stripers. It is that easy.