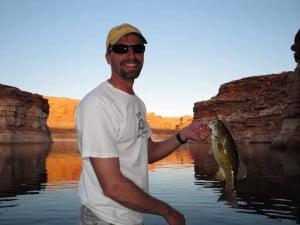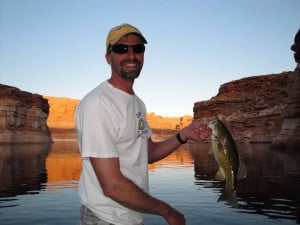 Lake Powell Fish Report
 
By: Wayne Gustaveson                         May 5, 2010
Lake Elevation: 3620                           Water Temperature 56-66 F
 
Fishing in May is always a unique experience.  Expectations for targeting a certain fish species often go unfilled only to be replaced by an even better success. The lake begins to fill in a respectable manner and then the river gushes forth with reckless abandon. It seems bass and crappie go deeper but, in actuality, they stay where the original nest was placed. The rising lake level covers the nest with more water. The net result is that successful fishing requires angling in deeper water and using different cues to find a successful pattern.
 
Every year in early May striped bass get lost. Contributing factors are warming that triggers spawning, but then cooling messes that up leaving fish confused. Stripers aren't sure if they should go to the channel to spawn or to the back of the canyon to feed. So they do both.  Finding striped bass now requires moving from deep to shallow water constantly watching the graph. When a school is found the rewards are great.
 
Additionally, spawning mode makes stripers become more active at night and dormant during the day. May will be the only month when bait fishing may be good. Reports last week of good catches of stripers on Moki wall near Bullfrog indicate a stop in the main channel at the normal locations (Dam, Power plant intake, Navajo Canyon, Padre Bay, Rock Creek, Moki wall, etc.) should be a part of the fishing plan. Do not spend the whole trip waiting for a school to bite.  Actively seek them out by using a graph to mark schools and then fish where schools are seen.  Troll and cast in shallow water. Fish bait in deep water.
 
Bass fishing will remain excellent for another week.  Cold weather moved bass off nests. Current warming will put them right back on. Fishing in the brush for largemouth bass and crappie will remain good. Weightless senkos, spinnerbaits and other weedless offerings work well in brush. Smallmouth bass will be on outside rock structure where plastic baits with exposed hooks will work fine. Top water baits are working early and late on bass.
 
Shad have begun to spawn. Gizzard shad have been spawning for the past two weeks.  With new warming threadfin will spawn soon. They spawn at dawn and attract all game fish in the immediate vicinity.  Look for shad spawning on the surface around driftwood and plants in the back of canyons and coves. Fish around active spawning schools by casting shad colored crankbaits and rattletraps to catch a wide variety of game fish.
 
This is the time of year when all fish are vulnerable. Line up on a rocky shoreline with a favorite crankbait or plastic offering and catch largemouth, smallmouth, crappie, walleye, sunfish and catfish. 
 
Fishing remains as good as it has ever been on the big lake.  Fish on a fair weather day to make some remarkable family fishing memories.