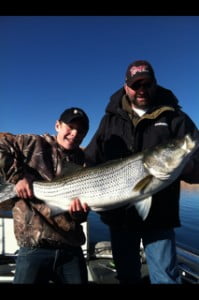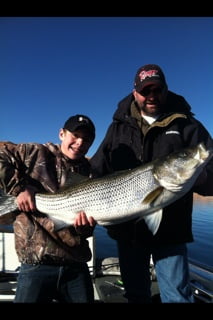 Lake Elevation: 3604
Water Temperature 45-47 F
By: Wayne Gustaveson
It's been a cold winter at Lake Powell. Water surface temperature bottomed out at 44 F and presently fluctuates between 45 at night and 47 during the 'heat' of the day. Water level continues to decrease resulting in the closure of the Castle Rock Cut and the primitive launch ramps at Hite. Luckily the last cold spell featured an increase in the snow pack in Colorado which means there will be some runoff this spring.
On the bright side, those anglers that continue to bundle up and venture out have had some very positive success. Bass fishing is slow but occasional bites in the backs of canyons near brush produce some very nice largemouth weighing from 3 to 7 pounds.   Water level decline strands more and more brush each day so the best bass canyons are those that have long flat flood plains with ample brush. Examples of canyons with long flood plains are Wahweap, Warm Creek and Navajo on the southern end. Midlake canyons include, Halls Creek, Escalante, San Juan and Red Canyon.  Find submerged brush and largemouth are close by.
Striped bass schools remain in the backs of the canyons roaming from 70 foot depths into 25 foot shallows. At Bullfrog the closest reliable fishing spot is near Dome Rock on the west end of the Bullfrog houseboat field. At Wahweap the closest spot is near Lone Rock. There are some shad left in the backs of the canyons so stripers remain there and continue to search for food each day.
When fishing for schooling stripers the best strategy is to troll with a deep diving lure or with down riggers or leaded line. Watch the graph to locate schools while trolling.  When a school is observed mark the spot by tossing a floating marker over the side but continue to troll hoping that the school fish will take the trolled lure.  If there are no takers return to the marker and jig vertically near bottom with spoons. The goal is to hook the first fish which triggers the whole school into feeding mode.
A troll hooked fish is often followed by school mates. As that fish is being netted, drop spoons to the bottom to light up the school of trailing fish. Spooning may result in many stripers being caught in short order. When the school moves on troll to relocate them, hook one and then repeat the process by dropping spoons once more. This combination of trolling and spooning is very effective and has resulted in big catches of stripers during January over the length of Lake Powell.
Using this procedure was very good for me on January 31. We trolled deep Thundersticks near Lone Rock and found stripers holding at 35 feet.  We caught one fish trolling and another 12 using spoons.  We caught another fish trolling and then 10 more with spoons from the second school.   When those fish moved on we trolled for the 3rd time.  This time a big striper hit the clear/white Deep Thunderstick. It took 10 minutes to subdue the 15-pound striper that was 34 inches long and 20 inches around.
Bigger stripers are more often found in deep main channel water. On January 20, Jesse Pond was trolling with his Dad Sean from Denver CO.  They began trolling a perch colored Deep Thunderstick on leaded line at the mouth of Forgotten Canyon and hooked a big fish after trolling for only 15 minutes. It took 13-year-old Jesse an hour to subdue his 28.3-pound striper.
Despite the cold weather fishing is still good at Lake Powell. It may be the best time to catch a trophy fish.  We guarantee that you will have the big beautiful lake almost to yourself.  You are all invited to experience Lake Powell in the winter.