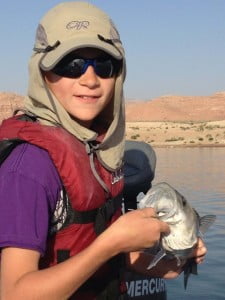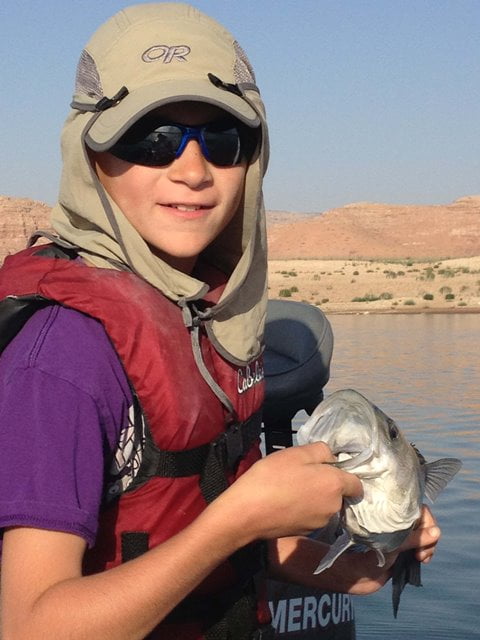 Photo Caption:  Brayden Hansen, Mayfield
UT, covered up to get out of the sun while fishing for boiling stripers in
Bullfrog Bay. Brayden and family caught  stripers on top each moring and
evening. Stripers are boiling from the San Juan all the way to Good Hope Bay.
The weather is hot but so is the fishing.
Lake Powell Fish Report – July 10, 2013
Lake Elevation: 3598
Water Temperature 78-83 F
By: Wayne Gustaveson
Lake Powell fishing strategy is determined by shad size and abundance.  Striped bass are feeding on the surface over the entire lake but where shad numbers are small so are the boils.  Where larger shad are numerous fishing success is terrific.
In the southern lake shad are tiny and scarce.  Little slurps are seen randomly throughout the day but stripers feed quickly on a small group of shad and then dive back to the depths. Stripers can be caught if they surface within casting range and anglers respond quickly with accurate casts.  Small rattletraps, or swim baits placed right in front of a slurping school may result in catching a very healthy 14-18 inch fish.  These stripers are eating shad and plankton and doing very well.
Larger stripers are still looking for something to eat in deeper water where small shad are not available.  Bait fishing is still much more effective from Wahweap to Rainbow.  Slick rock coves and ridges at depths of 20-40 feet are the prime habitat.  It is possible to troll and graph a cove to find willing fish or just randomly chum and fish a spot to see if stripers are present.
The standard hotspots continue to produce.  The dam is good early and late each day.  The power plant intake has hot striper fishing at mid day.  Slick rock coves in Padre Bay are good all day long but now you must try a few spots before locating a school.   Once a school lights up on bait stripers can still be caught in huge numbers.
From the mouth of the San Juan to Trachyte Canyon slurps and boils rule.  Surface feeding action is strong each morning and evening when weather permits.  Cast surface lures, rattletraps and spoons to feeding fish for instant hookups. Repeat until the school dives and then find a new school and cast some more. Many have caught over 100 fish per day exclusively fishing for surface feeding stripers.
Smallmouth bass are the next most commonly caught fish. They are near broken rock and easiest to find on steep rocky slopes. Work drop shot rigged plastic worms progressively deeper down a slope until a bass hits.  Remember the depth where the first fish is caught, then drop to that depth on similar habitat. Depth and structure are the habitat keys that make a successful bass fishing day. Luckily smallmouth bass are quite willing to hit bass lures and baits in the current low forage conditions so bass fishing is great.
Catfish are the next most active fish.  Evening finds them cruising shallow beach areas looking for food. They will come to areas where boats and camps are common looking for table scraps or other food items left on the bottom.  When swimming and wakeboarding are done for the day the Lake Powell adventure can be extended into the cool evening by fishing on the beach for catfish. Houseboats parking spots in the backs of canyons provide the perfect habitat for catfish.  Fishing at Lake Powell remains great for a variety of species.