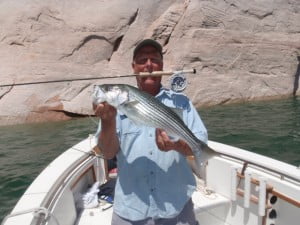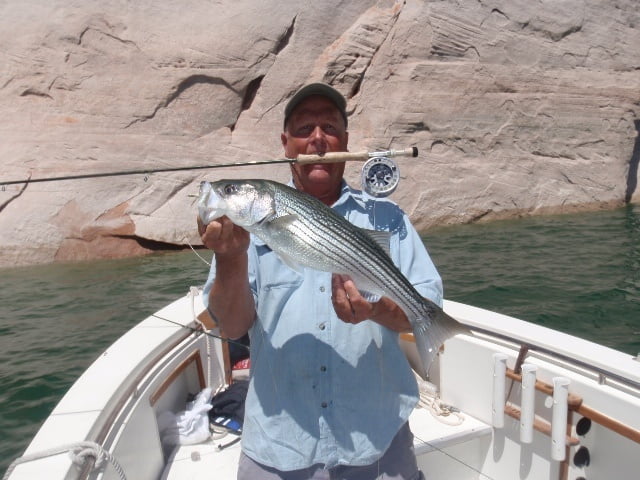 Capt. Bill 6-23-13
Dear Anglers,

Summer is hot and so is the "bite"!  New on the Fly fishing this past week in 78 degree water is producing fat stripers on the long range day trip.  The lower water run off has kept the bait fish to lightly stained to heavy from mid Lake to Bullfrog.  I am using "chartreuse clausers" and "Bill's Rooster Wooster on a full sin tip powered by a 7-8 wt rods.  Chum was only need on a few schools plus top water action very early  or very late.  If it's happening on the "fly" it's happening down to the hand line as well.  Fishing has never been better.  This  past Month has been some of the best fishing I have seen in a while. 
The cut is not open and they are saying it probably won't.  What this does is force us for those who want a full day into the good fishing to have to do a surcharge.  We do discuss this prior to the trip and we can do 1/2 day's 1-4 anglers $375 very successfully and you will get your fish.  For those, who want the full day call me and I can give you your options.  With the excessive heat now and into the next month for sure I do recommend "1/2 days" as the bite will go down on my trips early afternoon with the heat.  If I am out further on an extended surcharge trip, I can get into an afternoon bite.  Our trips are 15 miles out and 15 miles back.  If further, with the cut closed, I have to do a surcharge.  Our water levels are definitely low and we guides are feeling it!
Bookings for Fall are already filling up.  If you are thinking of coming, give us a shout so we can get a date for you.  Remember, if you are on a houseboat, we can come and get you and get you out for a great day(s) fishing.  We also have 15% discount with Day's Inn for Ambassador Guides. 
We hope your summer is off to a great start and hope to see you at Lake Powell.
Tight Lines,
Capt. Bill
928-606-5829
928-606-0933
Facebook: Lakepowellfishing