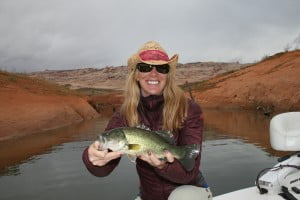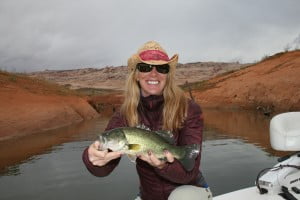 Photo caption: Brian Myers found bass fishing good for his angling group in Good Hope Bay. Here is a light colored largemouth bass which looks much like a smallmouth bass. These fish species are currently hard to tell apart when they come from murky water. Bass fishing is good now while stripers are being more selective. This is a picture also of the "graph" to illustrate striper feeding.
Lake Powell Fishing Report October 17, 2014
Lake Elevation: 3606
Water Temperature 70-74 F
By: Wayne Gustaveson
My week was spent from the mouth of San Juan to Rincon with a side trip up the Escalante Arm. Striper fishing was tough with no boils seen and only 3 fish caught all week. Bass fishing saved the day. The main channel bass pattern was consistent. At the corners and edges of the channel there are a few shallow slick rock islands protruding from the water. These beautiful rock formations harbored good numbers of smallmouth bass that could be consistently caught casting and trolling with shad colored lipless vibrating lures. It is likely that bass were running shad schools into the shallow bays and trapping them against the rocks where feeding was intense. The rocks guarding the mouth of the San Juan were a good example of the rocky habitat that provides especially good fishing. Fishing in the backs of canyons was slow for stripers but again smallmouth bass were active in 12-25 feet of water in most canyons.
Upon returning there were many fish reports waiting. Fishing has been challenging since full moon but is now slowly improving. The key is to find locations where fish are active and avoid the quiet spots. The best spots this week were on the San Juan Arm from Cha to Neskahi, and the mouth of Rock Creek to Gregory Butte. There were no fresh reports from the northern lake except to say that fishing is improving after full moon. Fishing at Bullfrog was slow with the best spot in Halls Bay.
There is more action in the southern lake. The best plan of attack is to head out early and look for striper splashes as they feed individually and in small groups from Wahweap to Rock Creek. If the surface action continues then stripers can be caught in quick small boils. The real action comes when the school dives and can be found on the graph. Spooning over holding schools at 40-60 feet is the very best fishing technique now to catch big numbers of stripers. Stripers were recently spooned up at the mouth of Rock Creek where small surface disturbances were seen. The school was found where bottom depth was 60 feet. It is really tough to find suspended schools where bottom depth exceeds 100 feet. Look for boils but the best work is done in deep water with spoons. Bucktail jigs, hyper stripers and similar lures that can be fished at various depths in the water column and then retrieved from the bottom to the location favored by suspended fish may be the best technique for catching fish in these challenging high-forage conditions.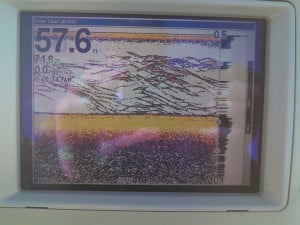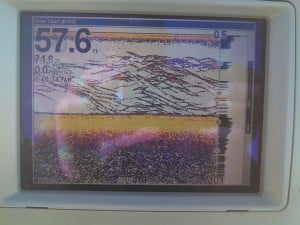 Tips for Graph Use: Those new to using a graph to locate fish commonly turn on the fish ID which shows computer generated fish pictures on the graph. Fishing is not a video game. Actual fish are best seen by using raw data. This can best be tested on cliff walls and at the mouth of canyons. Here the sonar sound bounces of the cliff wall then the bottom before returning to the graph. The fish ID shows these "bounces" as fish when they are not. Learn to use the graph in open water where bottom depth is between 40 and 60 feet. Look for individual fish and schools where the bottom is distinct for best results. Graphing in the main channel only works when the graph is zoomed in to show a selected area. Choose the depth where most fish traces are seen for best results. Fishing is slower than usual but warm days and cool nights are very comfortable. The Lake Powell scenery is even better than ever in these late summer days.