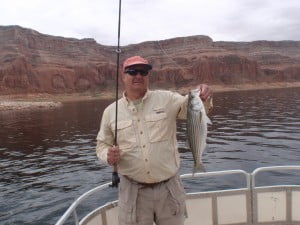 Fly Fishing 10/8/14 with Richard Hargis from Utah
The days scenario fishing Powell is a 50/50 possibility for Stripers. If you hit the schools on top then two people can bag 10 to 20 fish in and hour fishing conventional. Fly fisherman can cut that equation in half. The fish are fat and strong with 1 1/2 inch fillets for the table. The rest of the day would be looking for small mouth unless where presented with another boil of course the hopefully a few more Stripers.
That's the first 50% ! the second is hitting a dud on the top water and it's a day of Small Mouth but it's a beautiful time to get that fall weather fish with winter around the corner and don't forget a good day fishing is better that a good day at the office and the catching is the bonus.