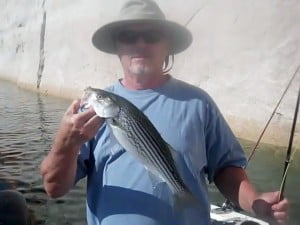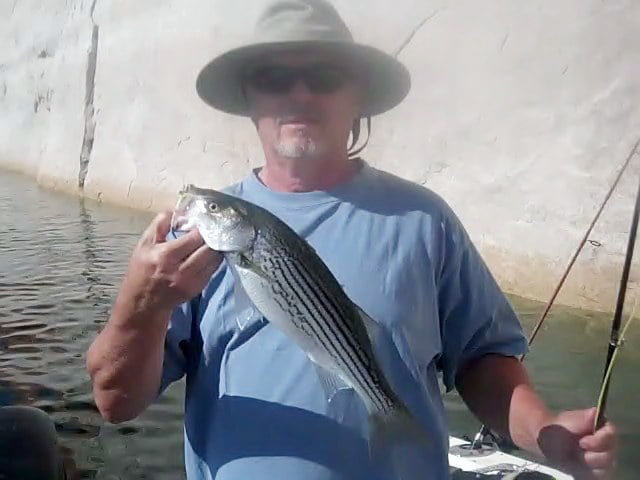 Denny Fly Fishing with Ambassador Guides 9-10-12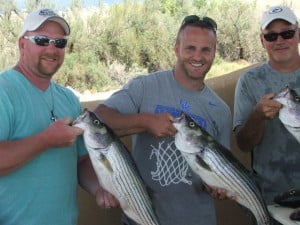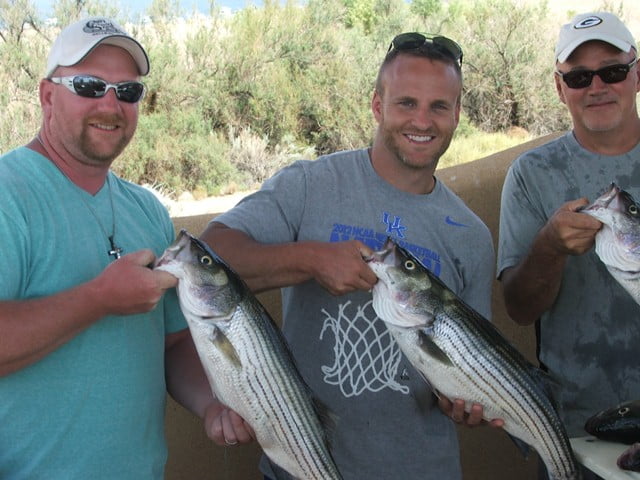 The Dahlman Group 9-07-12 Fishing with Ambassador Guides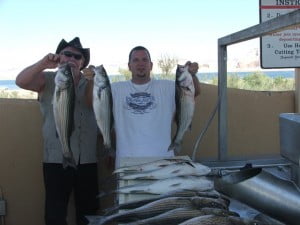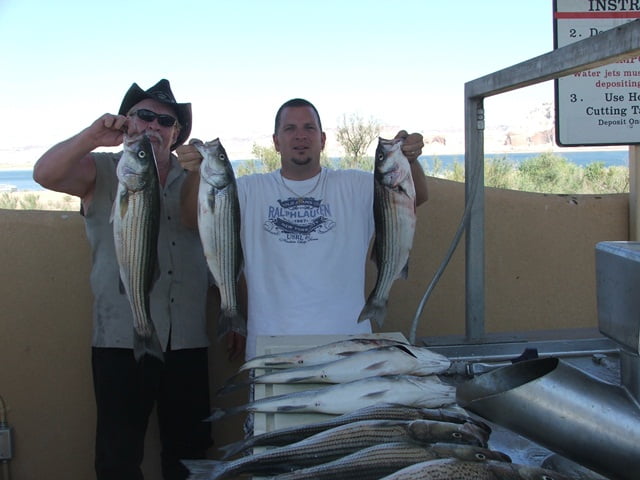 Paul & Mitch at the Cleaning Station Fishing with Ambassador 9-08-12
Lake Powell Fish Report – September 11, 2012
Lake Elevation: 3622
Water Temperature 77-80 F
By: Wayne Gustaveson
Good fishing success we have enjoyed for a while continues and is perhaps even better than last week. The main factor is falling lake level. Shad have been hiding in the brush line surrounding the lake all summer long. Now water level is declining leaving the brush high and dry and shad without a good hiding spot.   Shad are exposed and all game fish are taking a swipe at them every chance they get.
Scattered splashes mark the action punctuated by diving seagulls and terns, with shore bound ravens, coyotes and herons waiting for their turn. Cast surface lures and shallow diving crankbaits near diving gulls and splashes.  When surface splashes cease look at the graph for more action.  The brush line is in shallow water from 12-20 feet.  When fish leave the surface, graph the sloping bottom from 35-60 feet for striper schools.  When found drop spoons to the waiting, hungry fish for quick results.   It is common for all who drop heavy slab spoons into an active school to catch fish at the same time. Make sure to mark the spot of first encounter so it is easy to return to the same spot after the school leaves the boat and returns to their resting spot.
Lake Powell's shoreline is not completely brush lined. It is hard to find boils in canyon areas with steep cliffs and no brush. Here trolling while graphing is the best way to find striper schools.  Spoons work just as well with the deep hungry fish as they do with surface feeders.  Find a school in 50-100 feet of water and catch them by down rigger trolling, with spoons on bottom or on bait with copious chumming. Smaller fish are more likely to be close to the surface while bigger fish are in the depths. Use you favorite technique but, if at all possible, come now.  Fishing is at the fall peak.
Some of the best splash and graph shallow areas are: Warm Creek channel from Castle Rock to twin islands, Warm Creek Haystacks (Cottonwood Arm), islands in Padre Bay, West Canyon mouth to Dove Canyon, Last Chance coves with brushy shoreline, and mouth of Dungeon Canyon. Look for exposed brush as an indicator of fish presence in all these areas.
Best trolling and bait fishing occurs in steep walled areas including: Navajo Canyon upstream from the big sand dune, buoy 83, mouth of Knowles Canyon, Good Hope Bay and many other spots.
Lost in the striper story are the bass frequenting all the areas just mentioned. Large and smallmouth are reacting to the displaced shad just as vociferously as stripers.  Soft plastic or hard surface lures cast to the brush line around the perimeter of Lake Powell will catch bass virtually all day long. It helps to see a few fish splashing or a bird diving into a cove to make sure it's the right spot.  But bass fishing is peaking now.  Choose your favorite fishing technique, location and lure. Then go out and try it. Fishing is superb from Wahweap to Good Hope Bay or on the San Juan to Neskahi Wash or up the Escalante to the Indian Ruin.   If you like to fish – Now is the time.