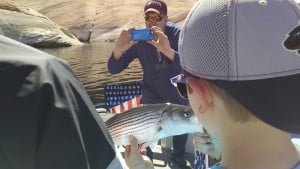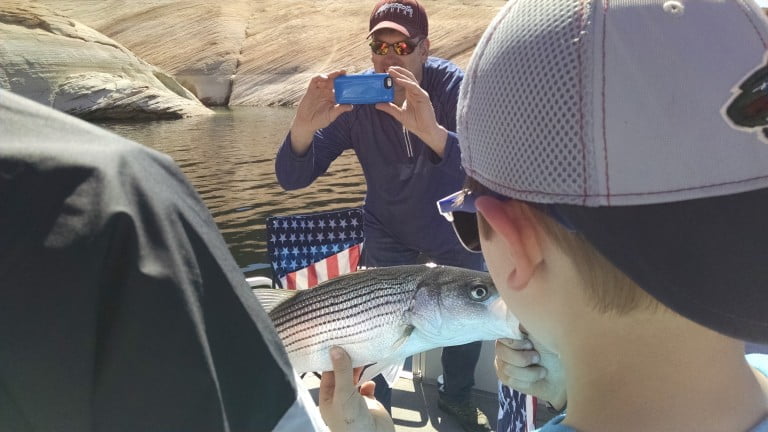 Stripers on the Fly Rod March 24, 2016 with Ambassador Guides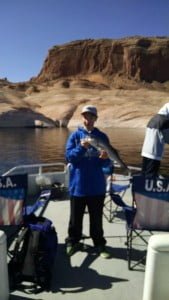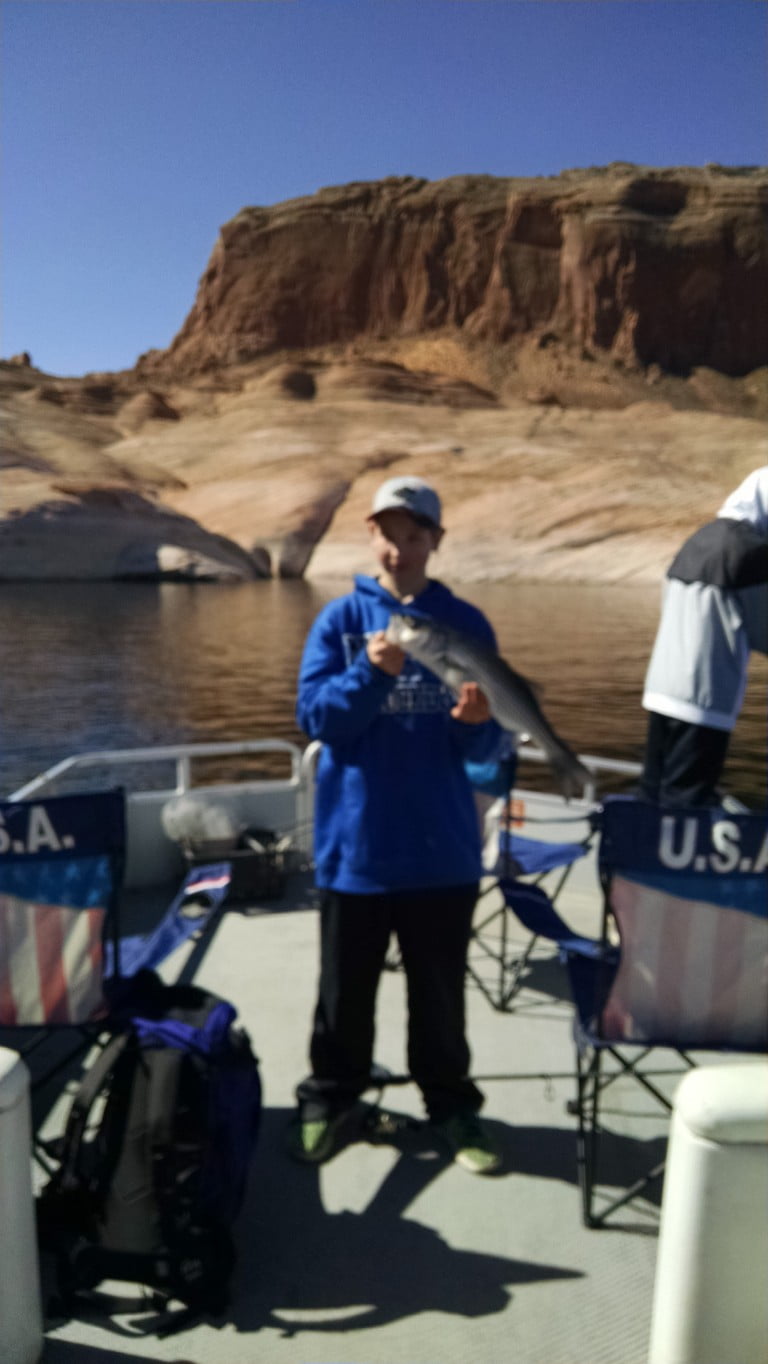 Spring Break Sunday April 2, 2016 with Ambassdor Guides
Steve & Family from Minnesota April 3, 2016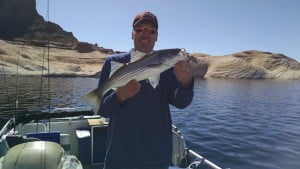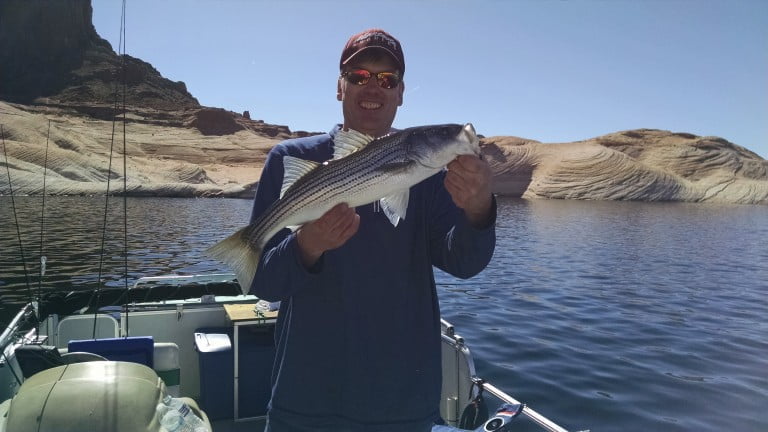 Steve with a nice Striper
Spring Fishing is here be sure and book now to secure your date
Fishing Report from Wayne Gustaveson
April 5, 2016
Warm Water Kicks-off Bass Fishing!
Striper fishing remains great both in the main channel and also in the shallow bays. The big news is the recent warming of the surface water to the magic 60 degree mark.  With that warming, major changes are now occurring in the Lake Powell fishery. Just remember that a windy day will slow down fishing success as the warm surface layer is mixed with the deeper cold water. That means hot fishing cools off only to start over with the next warming period.
Early morning water temperature was 56F which means that temperatures will exceed 60F on a warm, calm afternoon.  When that happens bass and crappie start thinking about spawning.  They come into shallow water and start prowling around looking for the right spot to build a nest.  This increase in activity makes them very susceptible to green or watermelon colored lures. As they search for spawning rocks they often encounter crayfish that are also moving toward the warm surface water.  Crayfish have green hues on the claws and bodies making crayfish imitating lures a hot commodity.
During the last bass tournament successful anglers did very well on green 4 inch senkos and single tail grubs.  Some also had great success with crayfish colored (red, orange and green) crank baits while working consistently down a rocky shore or along a sloping primary point. Bass fishing was just great over the last weekend with lots of 12-16 inch largemouth and smallmouth bass caught.  Some 4-pounders were taken as well, but the big news is that there are still some nice 6-pound largemouth in the lake.
Crappie are searching for brush in warming water.  Unfortunately brush is hard to find. In this situation they will suspend somewhere in 12-20 feet of water and wait for the lake to rise and for brush to be covered.  It will be necessary to slow troll or cast to find crappie holding out in open water at the back of a canyon.
Striper fishing is only getting better as more schools move into the main channel searching for food and following current. The dam, power plant intake, points in Navajo, and main channel walls over the length of the lake are harboring large schools of hungry fish. Chum the schools and fish with anchovies or other cut bait to catch lots of stripers.  Remember that the meandering school is mobile. If fish are not found at the first spot, then try other spots close by.   These fish are very willing to hit bait but you have to be close to them before that can happen. I am not good at waiting for fish to come to me so I move to find them.  Probably, at the end of the day, the patient anglers and the impatient movers will end up with the same number of fish.
Fortunately for me, other striper schools have chosen a different course and are more susceptible to my run and gun fishing methods. Smaller juvenile stripers are still in the backs of canyons and moving shallower. These are the plankton eating fish that are holding in 20-30 feet of water often in open bays.  They can be quickly found by trolling shallow to mid range crank baits at 3 mph along the breaking edge of a 20-foot deep shelf that quickly falls off to deeper water.  Wally divers, pointers, and shad raps worked well recently. The schools will often light up for a short time after the first fish is caught trolling. Cast to catch stripers following the hooked fish and always be on the alert for a school of stripers resting on the bottom. Spoons have worked recently on the stationary resting schools.
Take your pick:  Stripers deep or shallow and bass along the shoreline.  The amazing Lake Powell fishery is lighting up again and it looks like another banner year.