Dear Anglers,
Here a few pictures of last week between storms for some great fishing.  The water is expected to be up 50% this year which is terrific.  Right now Fly fishing, casting, trolling and bait fishing are really producing.  Join us for a great excursion on Lake Powell
Capt. Bill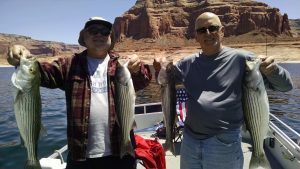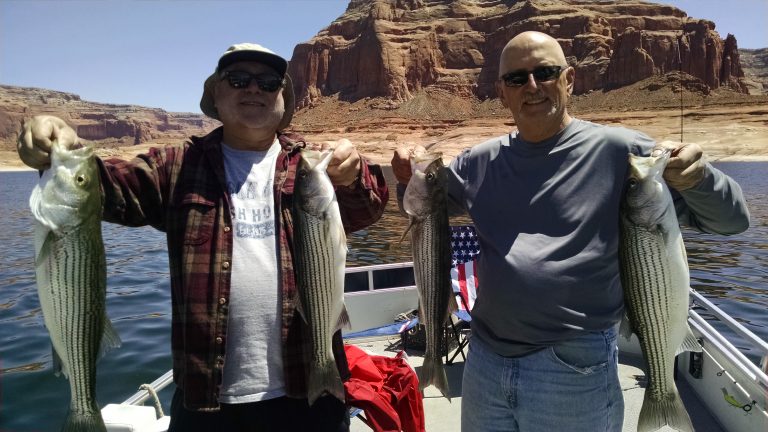 Two great anglers from Colorado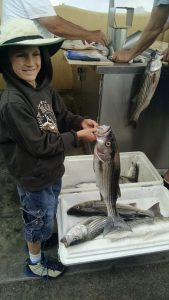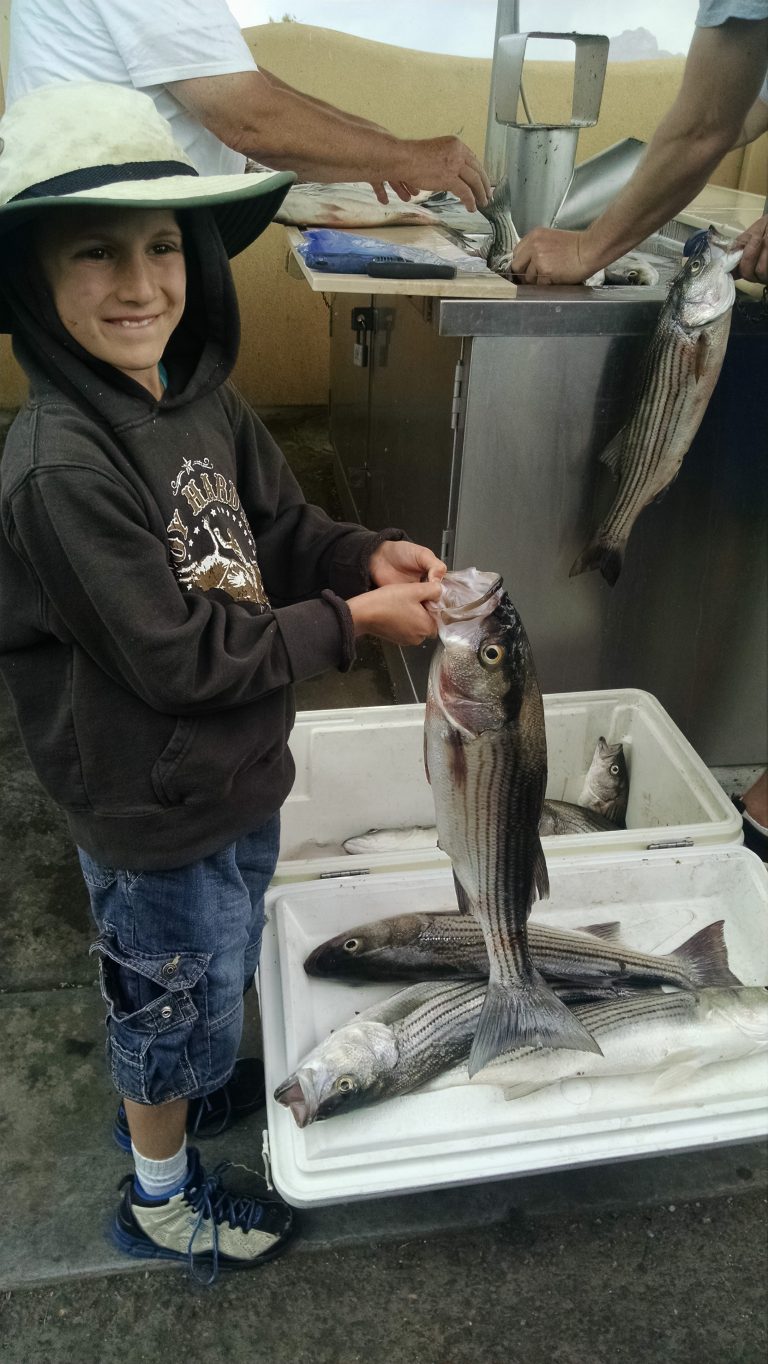 Christian from Utah with a nice Striper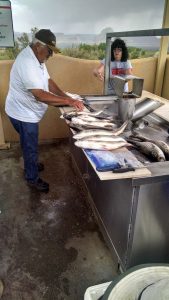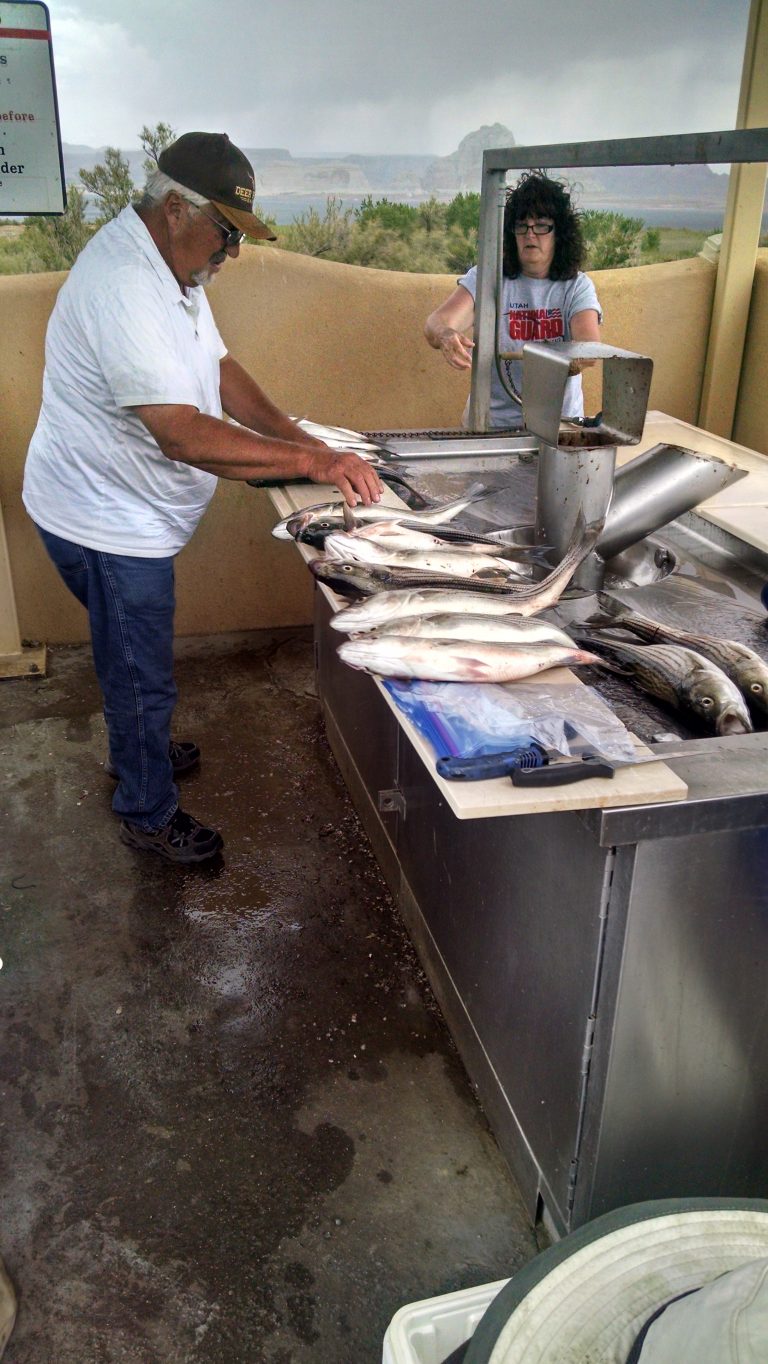 Grandpa Carson helping me with cleaning all the fish we caught (50)  It was a great day
Wayne's Words:
Lake Powell Fish Report – May 17, 2016
Lake Elevation: 3595
Water Temperature: 64-70 F
Jason Bellars, Flagstaff AZ, caught a huge largemouth in Wetherill Canyon last week.  Largemouth bass fishing has been great, along with stripers, walleye, smallmouth, sunfish and catfish. Spring fishing is as good as it gets right now. Its a great time to come to Lake Powell.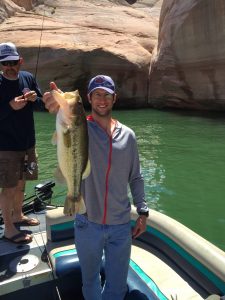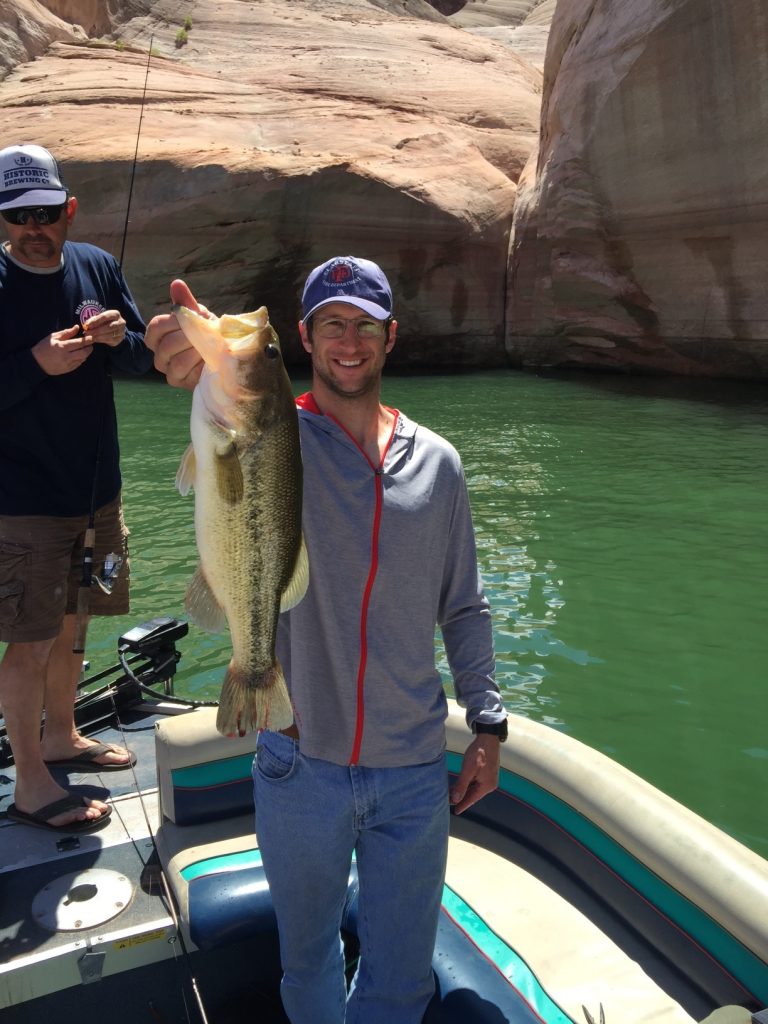 Lake Powell is rising in lake level and water temperature.  The lake came up two feet since the last report and the water temperature is now pegged in the mid 60s.  Every fish I saw this week had a big smile on its face because of the warming water temperature. Lake Powell fishing is now at the Spring Peak.  Here is the rundown.
Stripers are extremely catchable over the length of the lake. Many are being caught on bait from the shore, or on the fish docks near Wahweap and Antelope Point.  Reports of great bait fishing are coming from Bullfrog, Halls, and Lake Canyon mouth.
Those that like to chase stripers can visually see shallow schools sunning themselves along the edges of shallow reefs in Padre Bay, Buoy 25, and Wetherill. These stripers readily respond to blind casting with shallow running crankbaits   (I use the ghost colored Lucky Craft Pointer SP 78) and some have found quick boils with surface lures.    Striper schools are also grouped in the murky water in the backs of canyons where they can be caught on shallow running cranks and trolled deep diving lures.
Bass are mixed up with the crazy spring weather.  Some have spawned, others have not. Bass nests are still seen while some are abandoned.  The summary is that bass are hitting lures like crazy along the shoreline where rock or brush cover is present. My favorite go-to lure is a 5-inch single tail Yamamoto Grub in watermelon or pumpkin color on a 3/8th ounce jig head.  Cast to shore, let it hit bottom and work it gently deeper.  Cast it to deep water and work it shallow. Swim it back to the boat.  Just put the grub in the water and bass will tell you where they like it best.
The main problem with targeting bass with a single tail grub is that other fish like it too. It's hard to keep bluegill and green sunfish from pecking at it. Walleye will intercept the grub particularly when it is s-l-o-w-l-y worked along the bottom from 10 -30 feet deep.  Catfish have become very active in the last week and are being caught on a variety of lures. Crappie are being caught at random locations while they are waiting for the lake level to rise and cover up brush along the shoreline.
Walleye can also be targeted by trolling bottom bouncers with worm harnesses at the magic 12-30 foot depth. Flat line trolling works too with less expensive "banana lures" lures (Wally divers, etc) that hit bottom often when trolled at 12-15 feet.  The peak in walleye catching is now through June 15th.  These fish taste really good so you ought to give it a try. Walleye fishing is best at midlake right now.  The mudline from the Colorado River runoff is near Buoy 118 at the entrance to Good Hope Bay.  More cloudy water works its way down lake with each passing day.  Walleye are caught well in turbid water but really muddy water is not as much fun to navigate. The San Juan mudline begins in the narrows leading to the Great Bend at the end of the Neskahi Bay.
In summary, fishing is totally awesome at Lake Powell right now.  The only downside is that 20 mph winds have blown every weekend recently while week days have been calm. I will talk to the weather man and see if he can fix that.  I highly recommend a trip to Lake Powell during May 2016.
Wayne Gustaveson