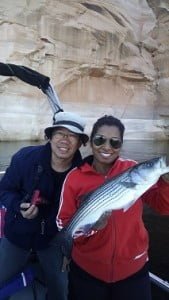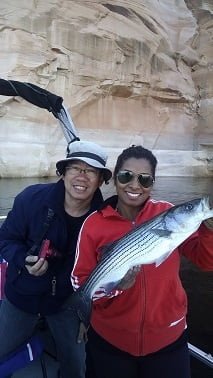 Great catch 6 lb. Striper 3-19-16
Lee Family from Arizona 1/2 day Trip and 16 fish caught.
Bait is back for the Stripers on Lake Powell !!!   Fly Fishing has started over chumming tactics Florida style and casting to points and submerged brush and will improve until water temperatures get too hot.  March weather patterns will make  projections to fishing happen faster than we like, but just to see what we can learn as it unfolds.
Green fish and Bronze's are king  right now for the bass anglers as far as  size matters  and I am predicting early smallmouth nesting rates unless El Nino changes it's mind again sometime in early April
"Time to book is now"
Capt. Bill