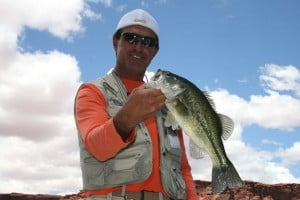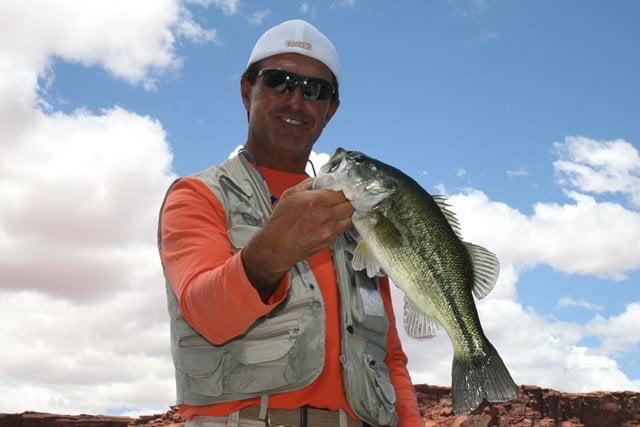 Hall of fame baseball player Fred  Lynn had
a 3-day Lake Powell trip with major league fishing for largemouth (pictured),
smallmouth bass, stripers and walleye. All fish were caught casting with hard
baits and soft plastics between Good Hope Bay and Iceberg Canyon.
Lake Powell Fish Report – June 4, 2013
Lake Elevation: 3599
Water Temperature 69-74 F
By: Wayne Gustaveson
Big Changes!
Lake level is slowly rising but that is not as important as the rise in water
temperature. During May the surface temperature was consistently in the 60s
which was great for bass fishing. During June lake temperature will be in the
70s which means young shad will be growing large enough to draw interest from
lake predators.  The immediate result of new shad presence is a dramatic
change in sport fish behavior.
Last week's report was all about stationary schools of striped bass that were
easy to catch. Just go to the dam, buoy 25 or Lake Canyon and catch all the
fish you wanted.   But today those schools of stripers are on the
move because they have found larval shad in open water. Schools that have not
moved for the last month are now leaving in search of food.  Each morning
stripers are now slurping (feeding in groups where 10-50 fish make slight
surface disturbances) in open water from Padre Bay to Good Hope Bay. Surface
feeding lasts about 2 hours each morning and may resume anytime during the day.
Another two hour feeding period occurs at dusk.
Slurping boils are strong morning and evening from Oak Canyon to the muddy
water of the San Juan.  I suspect the same events to be occurring in the
Escalante but do not have reports from that location. Catching fish out of
slurps is not easy because the larval shad food source is so small that it is
hard to match the hatch. A small heavy spoon like a Kastmaster or small profile
swim bait on a ¼ ounce jig head may be heavy enough to cast but small enough to
draw interest from hungry stripers.   Small LVs (lipless vibrators –
rattletraps) cast beyond the fast moving slurpers and reeled back through the
main group is another good technique.
Each morning there is more chasing than catching happening but that will change
as shad grow larger. Bait fishing is still good for stripers that stay along
the edge of the channel or return there after a two hour feeding spree each
morning.  A good plan is to look for slurps early and then try bait
fishing when open water feeding subsides.  Striper schools may not
necessarily be where they have been holding.  A good way to find striper
schools is to troll a deep diving lure until a fish is caught.  Then throw
a handful of anchovy chum in the spot where the trolled fish is landed.
Followers will likely be caught in abundance as they light up on the
chum.  Fishing is still excellent but it takes a bit more effort
now.  I guess we have gone back to "fishing" instead of just "catching" as
has been the case for the last two months.
On my last trip we caught largemouth, smallmouth, walleye and stripers using a
variety of techniques including trolling, casting, and bait fishing with
chumming.   Fishing is still excellent but plan on going early or
late to find the best fishing success.