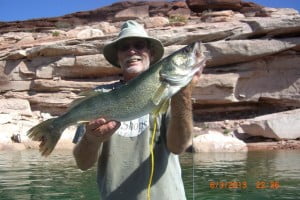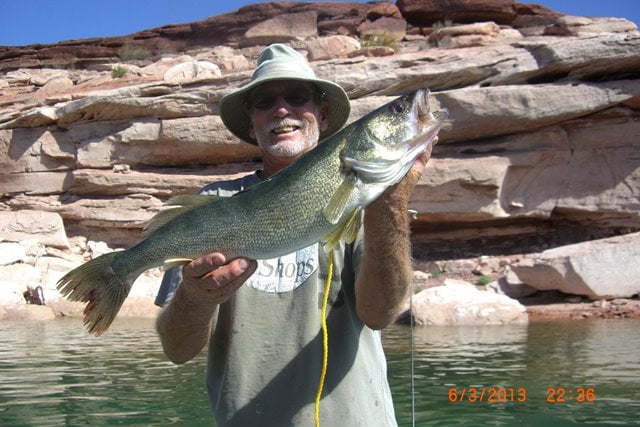 Don Hunt, Spring Valley AZ, fished on Lake
Powell for 10 days catching 150 walleye in the main charnel from the San Juan
to Llewellyn Canyon. His biggest walleye was this 8-pound beauty. Don and wife
Sharon caught bass, stripers, walleye and catfish and reported that fishing is
still very good at mid lake areas.
Lake Powell Fish Report – June 19, 2013
Lake Elevation: 3601
Water Temperature 75-78 F
Lake Powell water level has topped out at 3601 feet. That means the Castle Rock Cut is wet but not passable.  But fishing is still great making it worthwhile to head upstream from Wahweap or to take a fishing rod along when heading out from Bullfrog or Halls Marina.
Lake location often determines which fish may be caught. While all species are available in each canyon there are some habitats that favor a particular species.  For instance, the steep canyon walls in the main channel between Rainbow and the Escalante feature more walleye than many other locations.  Use plastic grubs in the shade of the walls morning and evening or troll along the canyon edge with 12-20 foot diving lures to target walleye.
Smallmouth bass are on the rocky reefs.  Slow down when yellow water marking a hazard to navigation is seen.  Once the boat is safe, stop and toss drop shot or Carolina rigged plastic grubs to the top of the reef and then work deeper down the slope until smallmouth are found.
Largemouth bass are searching for any brushy cover they can find. Look for an old stump or bush, or submerged tumbleweed, or any other habitat that may make these brush-dwellers feel comfortable.  Throw a long cast close to the structure and fish plastic, crankbaits, or top water lures to entice bass to feed.
Striped bass are very visible and really fun to follow around. At first light they hit the top, feeding on ½ to ¾ inch shad. This week shad had gained a bit more mobility so the slurpers were coming up and making a zigzag wake when feeding. It was possible to get close enough to each group to see stripers feed and watch how they reacted to their environment.  Groups of 5-10 stripers were feeding in bays and coves while 20-30 fish schools were feeding in open water of the main channel lakewide.  At first light any small swim baits, spoons or shallow diving crank baits were tasted by the chasing school fish.  They nibbled but did not necessarily hook up every time.  Catch rate was about 1 striper for each slurper group encountered. Fish caught ranged from 6 inches to 4 pounds.
When the sun was completely on the water (9-11 AM) slurpers went back down or fed with less enthusiasm. Stripers could be caught trolling in the areas where slurpers were seen but it was much more effective to dig out the bait and catch a bunch of stripers from the standard spots.  Stripers are still holding in the usual places and are very willing to hit bait.  Look at the dam (evening), power plant intake,  Navajo Canyon points (2nd point beyond double islands), Buoy 25, San Juan canyons, Escalante (Willow Canyon mouth),  Lake Canyon mouth, and Halls Creek mouth.
Again at mid day, when sun was straight up, the slurpers would start feeding again for an hour. They were easy to catch when first seen and then less aggressive as their noon hour feeding event concluded.  Bait fishing was good in the afternoon followed by a final slurp event at dusk.
Stripers are working hard each day to regain their vitality by eating as many shad as possible. Please give the shad population a big boost by catching and keeping as many stripers as possible.  The population is still abundant and easy to catch so bring along the fishing rod on your family vacation.