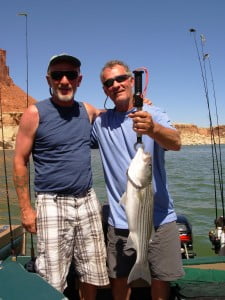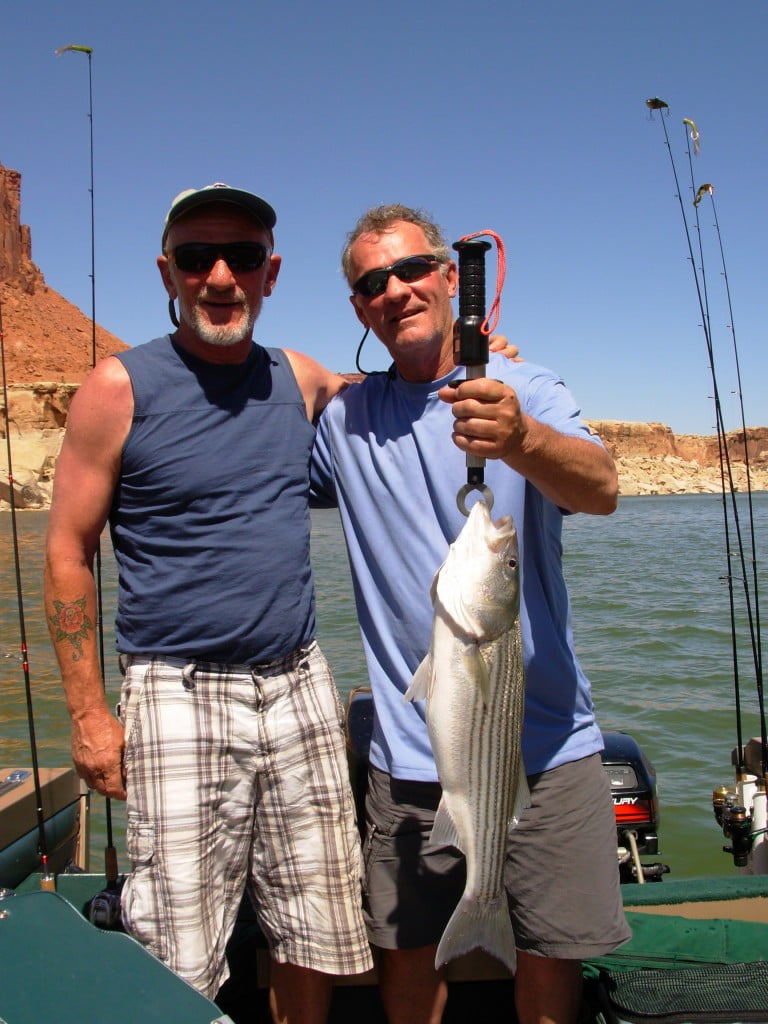 Photo Caption. Ed Feller (right) and his favorite brother Jeff fished together at Hite. Trolling for stripers was good, but smallmouth bass fishing was better.  They had a great fishing trip which will make great memories.  Now is the time to take the family fishing at Lake Powell
Lake Powell Fish Report – May 10, 2012
Lake Elevation: 3635
Water Temperature 64-72 F
By: Wayne Gustaveson
For another week Lake Powell's water level is stable and temperature remains in the low 60's which is ideal for excellent bass, walleye and crappie fishing.   With day length and ambient temperature increasing the best tip is to fish in the shade.  That includes the shady side of an individual rock or the shady side of a canyon. Seek shade to increase catch.
Bass nests are still seen in the clear water and some have male guards cruising in the vicinity.  But bass spawning is near completion.  Smallmouth have begun the migration from shallow nesting areas in the backs of the coves toward the channel where they will reside on rocky points and ledges for the rest of the summer.  Adult smallmouth have moved down a notch and can be found in deeper water depths at 10 to 20 feet.  Young smallmouth are still ever present and eager to attack lures just about anywhere.
Largemouth bass really do not like to leave brush. Big adults are still residing in the thickest trees they can find in shallow water.  Expect them to be 5-10 feet of water surrounded by tree limbs.  Weightless rigged senkos are still accounting for a good catch of bucket mouth bass for those fishing shallow brush lined coves.
Walleye are the hot ticket right now particularly north of Bullfrog. The best technique involves worm harnesses attached to bottom bouncers which can be slow trolled along a fairly flat bottomed.  Bottom bouncers will travel along slick rock humps and flood plain bottoms with ease but are not good in thick tree lined areas. Select a relatively open bottom and troll at a depth of 20-40 feet.  Walleye are often captured with flat line trolled wally diver type crankbaits and randomly caught with plastic baits while fishing for bass.   Fish the edge of bass habitat in slightly deeper water to find walleye.
Striped bass fishing is heating up from Good Hope to Hite where trolling leads to decent catches of fat fish up to 6 pounds. In the main lake stripers are still waiting for the spawning trigger.  Males from 2-4 pounds are holding in 25 to 40 feet of water eating plankton and a few crayfish. Schools are very active at dusk and dawn. Troll shallow running crankbaits, swimbaits, or bucktail jigs to locate a school. Once found, return to these spots every night and morning to catch another cooler full of fat stripers from stationary schools. During the day fishing success drops off, although this week there has been a noticeable increase in school size and some have been willing to greedily attack spoons for short periods morning and evening.  Large females are still mysteriously sulking during the day. They can be caught at night near schooling males.
One of these nights spawning will occur.  Those lucky enough to witness the event will be able to catch stripers on every cast for hours. Spawning fish will range from 2 pounds at the smallest to 50 pounds plus for adult females.  They will all be mixed together so a 2-pound fish could be caught followed by 30-pounder.  Cast a single hook on a bucktail jig after dark to prevent hooking your hand during lure removal. Striper spawning is a singular event that should be on any anglers bucket list. I have been fortunate enough to have witnessed this event only about 5 times in 30 years.    Night fishing is not my favorite but conditions are right this week for striper spawning to occur.
Here is the plan.  Choose a calm night when water temperature has increased from the low 60s in the morning to mid 70s in the evening. Choose a warm night when water temperature remains high. That triggers the females and spawning occurs.  Find the male aggregation by trolling or casting to prominent points at dusk. Sometimes surface splashing near shore at dusk marks the spawning coves. Anchor the boat one long cast from shore. It is fine to catch males while waiting for the bigger fish to move in.   This event is the only fishing experience that exceeds a major striper boil lasting longer than an hour.  The time is close. I hope you find them.