Lake Powell Fish Report – March 7, 2012
Lake Elevation: 3635
Water Temperature 49-54 F
By: Wayne Gustaveson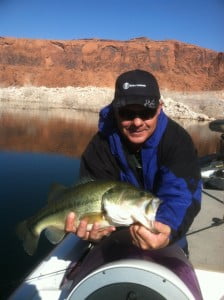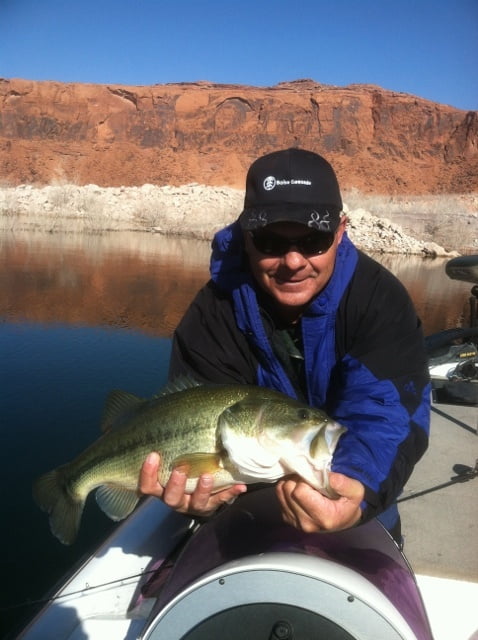 Mike Crowther, Page AZ, shows off one of the trophy largemouth bass caught at Lake Powell this spring. This one came from the San Juan Arm. The better news is that there are many of more of these waiting to be caught in the next 3 months. This will be a banner year for big fish.
Fishing Report:
Lake Powell water temperature still hovers between 49 and 54. Not much change will occur in fishing conditions until significant warming of air and water comes toward the end of March. The good news is that stripers, walleye, largemouth and crappie can be caught now with specific effort directed in the small areas of vulnerability these species exhibit.
 Here is the pattern for success. Look for water that is murky green instead of blue and clear.  Most fish are holding in the back of canyons near brush where water depth is 25 feet.  Stripers are loosely associated with brush as they have become accustomed to chasing food in and around the tree branches.  Roving schools suspend near the edge of brush usually along a drop off where water depth changes quickly from 20 to 40 feet. Stripers will now respond to lures trolled over and through the trees.  For best results, troll in a circular or zigzag pattern where bottom depth is 25 feet.  Try to bring lures close to big trees without dragging them into unforgiving snags.  Lures that dive to 8-12 feet may be the best while trolling the brush line.
Best fishing success is found at the warmest part of the day.  If water temperature exceeds 54 degrees fishing will improve dramatically on warm afternoons.   Stripers are curious and respond to feeding actions of their school mates.  A hooked fish is often trailed by interested onlookers.  Take advantage of this behavior by jigging spoons or casting lures to the general area of the hooked fish.  Let the lucky angler net his own fish while others in the boat try to duplicate that success and keep the flighty school under the boat for maximum hookups.  
Bass and walleye are in the same general vicinity. Park the boat in 25 feet of water and cast to the brushy shoreline where water depth is 8 feet. Shallow flats do not hold as many fish as the trough between two points.  Run a swimbait slowly along the bottom from 8 to 25 feet.  Bump bottom occasionally and fish slowly.  Sometimes bass will be hugging bottom while at other times they will be suspended in the trees. Best fishing is found during the warmest part of the afternoon.
Walleye will begin spawning next week with reduced fishing success. This will be the best week to catch a prespawn trophy walleye.  Crappie are best caught in the thickest trees where bottom depth is 12 feet. They often suspend in open water making them hard to locate. Fish small (1/16th ounce) plastic or marabou jigs straight up and down in brush to attract fish and prevent snags. Crappie like slow steady moving lures better than fast moving lures.