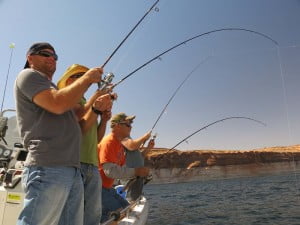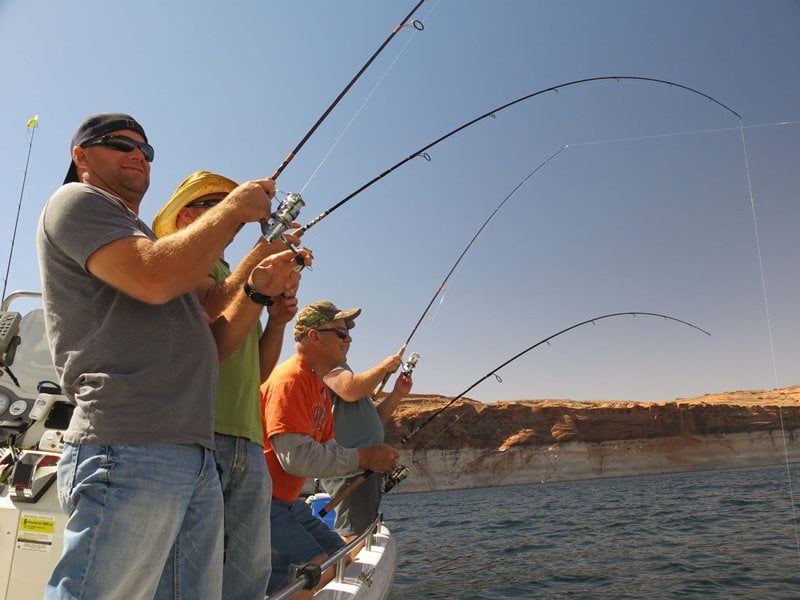 Photo:Josh, Matt, Mike and Luke Gross found hot and heavy striper fishing in Navajo Canyon.with many multiple hook-ups as they fished bait for hungry stripers along the canyon walls. Striper action remains hot as bass move into  the shallows to spawn. Its a great time to be at Lake Powell.
Lake Powell Fish Report – April 17, 2013
Lake Elevation: 3597
Water Temperature 53-63 F
By: Wayne Gustaveson
As this report is written the wind is howling keeping water temperature down in the low 50s.  Don't be discouraged. The wind will stop before the weekend allowing the temperature to rise.  Warming water will usher in the annual bass spawn.  If sight fishing for bass is high on your list then the fun begins as the water calms and continues into the first part of May.
Largemouth bass will be searching for some structure, like an old tree stump or submerged tumbleweed before sweeping a nest site.  Smallmouth will be fine nesting on a rocky point or ledge. Crappie will search for tumbleweeds or other dense cover. The males of these species guard the nest and offer parental care to protect their young.   However, brushy cover that has provided so much habitat the past few years is currently out of the water.  Without dense cover it will be difficult for the hatchlings to survive. It is imperative to return MALE bass and crappie caught guarding nests to allow them to protect their young in the absence of cover. Female bass and crappie can be harvested without impacting young survival.  Be advised that young crappie and largemouth bass produced this spring will have very low survival without brush shelter. It is possible that an early runoff could raise the lake high enough that old brush could be covered and protect some fish spawned in May but that is yet to be determined.
Striped bass are being caught in large numbers over the length of the lake. Deep water on the southern end, from the Dam to Navajo Canyon, offers anglers an unlimited opportunity to harvest stripers. The strategy is to chum near the main channel canyon wall.  Attach a chunk of anchovy to a lead head jig or a hook weighted with a sliding sinker. Cast the bait 30-50 feet from the boat and let it settle in the water column at the same rate the chum descends.  Striper schools move along the wall searching for food.  Chum excites the whole school and many can be caught in one location. The only hard part is to find the school.  Be patient for 10 minutes while waiting for the first bite, but if it does not come then move along the wall and chum again until the school lights up.
Hot spots are at the Dam, Buoy 3, Antelope Canyon, Power Plant intake, and Navajo Canyon points. A new spot is found in the main channel upstream from Dominguez Rock Floating restroom and the mouth of Face Canyon in the largest slick rock cove near Buoy 25.
Midlake reports indicate bait fishing success is improving at Lake Canyon mouth and along Moki wall. It will be another week or so before these spots show the massive striper harvest now being achieved in the southern lake.
From Good Hope north shad forage is more available and anchovies are less successful.  Trolling and casting for stripers and bass provides much more success. Trolling near the White Canyon channel marker has been very good for fat, healthy stripers.
On a personal note, my weekly fishing trip was on a breezy morning before the current windy storm front arrived. Trolling close to shore for stripers in murky water caused by recent wind events was steady but not fast. Mid morning the wind quit for an hour before changing direction.  Calm water warmed rapidly causing all fish in the cove to respond.  Trolling was no longer necessary. We cast jerk baits to the shallow shoreline and caught healthy stripers of all sizes and smallmouth bass to 3 pounds on every cast.  Then the wind blew hard from the opposite direction and we went in.
These wide open catching opportunities will be repeated many times during the next two weeks as water warms, spawning begins and fishing gets HOT.