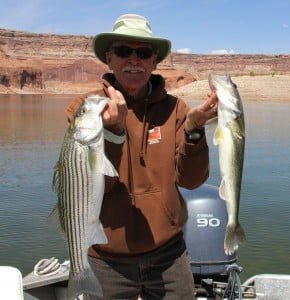 Wayne Gustaveson displays a fat striped bass and a walleye. Both fish were caught at noon while trolling and casting in 20 feet of water. Expect fishing success for all species to improve as the water temperature climbs consistently into the 60 degree range during May.
Lake Powell Fish Report – April 22, 2015
2015
Lake Elevation:
3590.5
Water Temperature 59 – 65F
Weather in the southwest continues to be mild. At Lake Powell nights are cool and days warm enough to make fishing and boating on the lake refreshing. The mild weather lasts until May when temperatures are turned up a notch. That warming will bring another bass spawn and the beginning of runoff and rising lake levels.
Current conditions include excellent fishing success for smallmouth bass lakewide. Largemouth and crappie are the next most likely fish to catch. When May warms up walleye may take over second place, at least in the northern lake. Here is a breakdown of fishing success from last week.
Northern Lake (Trachyte to Good Hope Bay)
Fishing success moves up and down with the degrees on the thermometer. It is better in the afternoon when warm and more challenging following a cool night or windy day. Striper schools are continually moving but can be caught in large numbers when a school is located by graphing or trolling. The most recent positive report came from trolling the main channel between Castle Butte and the Horn with deep Thundersticks and Umbrella rigs adorned with 6-inch paddle tail swim baits.
Walleye were caught trolling bottom bouncers with night crawlers and casting Wally Divers across shallow flats (15 ft) near Castle Butte. Bass fishing was best near broken rock structure on a
45 degree slope. Bass were found from shore out as far as 20 feet.
Bullfrog to Escalante
Bass fishing is best along the shoreline. Use plastics for best success. Single tail, double tail, senkos, shad shaped worms, and other plastic baits all work well. The secret is to use the technique that instills personal confidence rather than trying the technique that worked well for someone else. Go with your favorite lure and technique right now and fish will be caught. For best results use green colored plastic.
Crappie are showing up in the Escalante canyons with brush piles on the bottom. Stick up brush is hard to find so search for the submerged cover for best results.
Walleye will be caught in bigger numbers during May but expect to catch one or two per trip this week.
Southern Lake (Wahweap to Rainbow Bridge)
Bass lead the way but do it better in the warming afternoons. Fish broken rock along the shore and over submerged rock piles in open water. Plastic lures are best with green colors most preferred.
Walleye are showing up but not yet in large numbers.
Stripers can be found trolling where bottom depth is 25 feet. Yesterday we were able to mark schools in the back of the Rock Creek canyons and catch stripers on each pass over the school location. Surprisingly, the fish caught early in the day were small yearlings that were in open water eating plankton. After the water warmed in mid morning, larger stripers were caught where the yearlings had been located. The bigger mature fish were not found. It is expected that they are off feed while waiting for spawning temperatures to arrive. It may be difficult fishing for mature stripers during the next month. Bait fishing may produce a few stripers throughout the lake.
San Juan is perhaps the best location on the lake this week for all fish. Bass fishing is phenomenal. Water is clear all the way around
the Great Bend. Crappie are showing up in the
San Juan better than in other lake locations.
The first two weeks of May will probably be the best fishing for the spring season. Hope you can make it!