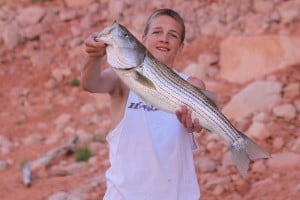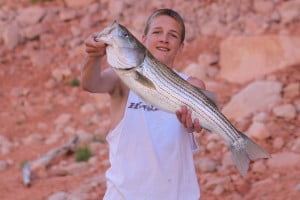 Photo: William Thompson, age 15 from Idaho Falls ID, caught a big striper in the Escalante River Arm of Lake Powell. He was fishing with his family when stripers started to boil in the back of the canyon.  He caught the first striper from a boil in 2014.
Lake Elevation: 3592.3 Water Temperature 67-74 F
Lake Powell came up over 6 feet since last weeks' report.  Fast rising water means fishing success along the shoreline declines as water covers new ground.  Seems fish and fishermen get separated this time of year.  The answer is to fish deeper water unaffected by rising water and to use specialized techniques.   Walleye may be the best target species right now using techniques and gear specifically designed for that purpose.  A walleye worm harness works very well. These rigs can be purchased or home made. They include a double hook harness with an attractant spinner blade separated by beads, which are joined with a swivel.  They can be trolled behind a bottom bouncer or cast with braided line with a bullet sinker to keep them on the bottom.   Fish early and late for best success, but do not pass up a main channel "mudline" with colored water trailing off a long point during the day. Yes, this is much more technical than putting an anchovy on a hook but it is very effective now.  
Walleye are more likely to be caught from Padre Bay to Good Hope Bay but are found in Wahweap, Warm Creek and Navajo for those willing to take the walleye challenge.  Find a main channel or canyon rock slide that falls into deep water.  Cast the rig into 10-15 feet of water and work it slowly but methodically into water as deep as 30-50 feet. Walleye have a very subtle bite so be alert for a small tick. Set the hook on the first touch.   Stripers are hit and miss now. They turn on for an hour or two at the usual spots (see previous reports) near the dam and along the canyon walls.  If stripers are not found on the first attempt, return in an hour or two for another try.   Trying a series of previous hot spots will likely lead to filling a cooler half full by the end of the day.  One plan would be to try the barricade by the dam, then move along the cliff wall fishing over shelves extending out from the wall. The next spot would be on the corner near Buoy 3 and then the Power Plant intake.  It is likely that a good number of fish would be caught at one or more of these locations.  Those productive locations will vary each day.
Bass fishing has been good this spring but average size has been small.  Habitat and forage conditions have been very difficult for bass and crappie.  Shad and crayfish forage declined dramatically when the lake declined for 2 years in a row.   Now the lake is rising and covering new brush.  It is encouraging to see many small bass that are ready and willing to fill the new niche being provided by improving lake levels.   This week much new green brush was being submerged and some young tamarisk trees which began growing last fall.  As the lake continues to fill the old tamarisk brush line at 3604 MSL will be submerged.  Old mature tamarisk trees residing above 3612 MSL will also be covered before runoff subsides.  Habitat is changing for the better and all fish will benefit.    Our weekly samples in May found only a limited number of young shad in a few canyons.  But samples taken this week showed young shad in every canyon.  As newly hatched shad grow and move into open water small stripers and bass will find them and begin to grow.  This cycle is repeated each spring. We know there are enough shad to soon produce slurping fish boils.  The remaining question will be the strength of the shad spawn and how long it will last.   With new brush in the water, shad will have some protection from predation and be able to grow larger than they did in 2013.  Large shad provide much better forage for all of Lake Powell's game fish.   I like the way the pieces are falling into place this year.  Adult sportfish populations declined last year but now many young fish remain.  The new forage crop will not be shared by as many fish as usual.  Numbers of forage and sportfish are more balanced.  This is a rebuilding year and conditions are just right for a positive result.