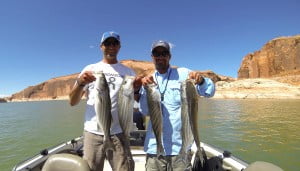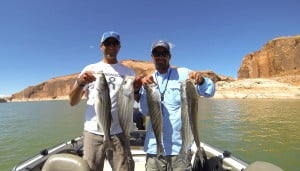 Photo: Ryan Mosley and Kevin Clegg , Dutch John UT, fished for stripers and walleye in May by trolling along Tapestry Wall. Here is the catch with the beauty of Tapestry Wall in the background.
Lake Powell Fishing Report May 28, 2014 Lake Elevation: 3586.3 Water Temperature 67-74 F
Lake Powell is now flooding new ground as runoff has doubled.  The lake rose over 3 feet last week. That figure will increase to 5-6 feet next week. Make sure to check beached houseboats daily and retie and readjust as necessary.   Castle Rock Cut is now deep enough and in operation for all boats.  Stateline ramp is open and operating.  Antelope Public ramp will be back in the water this week.  Then it will be up to NPS and Antelope Marina personnel to determine the opening date.   The other major change is rapid warming.  Night time temperatures are no longer in the 40s and 50s.  Now it only cools to the 60s.  Water temperature heated to 74 F yesterday in the afternoon.  But this morning it was back to 67 F.  Summer is here!   What impact do these changes bring to the fishery? 
Water is now warm enough to allow shad to spawn.  All game fish are waiting for more forage.  It has been a difficult spring with food being scarce. Fish have been slow to bite so far because they don't have a handy food source.  That will change as small shad enter the picture.  Shad spawn at first light in the morning in the backs of canyon around driftwood and floating peat moss.  That is a good place to be at dawn.  Use surface lures and spinner baits to work through the weeds and floating mats. Fishing was always good, but now catching will improve too.   The biggest change noted this week is that fish have moved shallower.  Small bass are moving into the green tumbleweeds that were recently submerged.  More and bigger bass are in the old tumbleweeds that were windrowed on shore but are now being covered by rising lake water. Much tumbleweed cover is now 8-10 feet deep.  Yes, there are bass in the sticky weed beds.  
  The biggest increase in activity was shown by walleye as they became more active and catchable in the muddy water at the backs of the canyons.  Work plastic bass jigs tipped with worms slowly along the bottom in 5-15 feet of water at the backs of canyons or coves. It is also effective to slow troll or cast suspending jerk baits, shad raps, or pointers in the same areas. Floating debris picked up by rising water makes trolling more challenging. Find an open alley for trolling or cast along the edge of floating debris as water continues to rise.     Stripers are still very active but they have moved shallower with all the other fish. My guess is that water temperature at 15 feet is just what warm water fish prefer.  At least they were all hanging at that depth as I sampled them yesterday.  
Bait fishing for stripers continues to perform well.  At any given day or time the canyons walls from the dam to Good Hope bay turn on.  But they also turn off.  Feeding time is random now so we just have to try different spots to locate a willing school.  The most consistent fish holding spots are 15-25 foot submerged shelves that stick out into the man channel where surrounding depth is over 100 feet. At the dam, Navajo Canyon, Lake Canyon or Moki Wall, look for a shelf as a starting point. It has been my experience that fishing close to the wall is better than fishing out in open water. One new spot that came on line this week is the Power Plant intake upstream for Antelope Point Marina.  Bait fishing has been good here in other years.  It took a while but stripers are now going at the intake. Look for the chain link fence on top of the south canyon wall to mark the spot about 1 mile upstream from the marina.  The opening of the Castle Rock Cut has reduced traffic in the main channel and made fishing the canyon walls from Buoy 3 to Buoy 9 much more enjoyable.