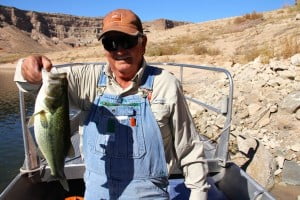 October 29, 2014
Lake Elevation: 3605
Water Temperature 65-69 F
By: Wayne Gustaveson
Striped bass annual migration is now almost complete. Fish movement begins in the spring as stripers react to warming water by leaving the backs of the canyons and heading toward the main channel to spawn. Then in summer they pursue forage in open water wherever they can find it whether on the surface or at grea
t depths. As temperature declines in fall stripers move toward the backs of canyons where they will spend the winter with shad schools that descend to 60-90 feet where water temperature is cold but stable.

 


Threadfin shad must be in deep water to survive cold winter temperatures that are near their thermal tolerance level. Rapid warming or cooling can be lethal to these warm water forage fish once acclimated to cold water ranging from 45-50 F.
Stripers make one stop before going deep in the winter. At the beginning of October shad were in open water but have recently moved into shallow coves to escape relentless striper predation. Shad hope that they can find shallow water where a three-inch fish can swim but a 3-pound striper cannot without hitting bottom.
This is what we found yesterday as we searched open water for striper schools and then moved to the backs of canyons to find where stripers 
have gone. We looked in Padre Bay canyons and found a few stripers 
left in front of Gunsight Butte. Large schools were found at the beginning of the month but now only one small school was seen. We did catch fish from that school by spooning quickly when the fish were graphed. We stayed over the school long enough to catch a dozen
2-3 pound stripers before the fish departed.
Next we looked for other schools seen previously in deep water from Gregory Butte to Gunsight without finding any fish. Then we went to the backs of canyons to see if shad were trapped in shallow coves. 
Most canyons were fishless while others harbored shad. Shallow shad schools were guarded by stripers, largemouth and smallmouth bass.
Once a shallow school was found it was easy to catch husky fish of all species by casting shallow and mid depth crankbaits in 12-15 feet 
of water. When we pulled out further to 30 or 40 feet we found 
striper schools holding waiting for shad to try to escape from the their coves. These schools were more than willing to hit spoons.
The successful lake wide pattern is to find shad schools trapped in the back of short U-shaped canyons near the man channel. Long winding canyons are not usually as productive. Try to stay within casting distance of the shad school but do not scare shad out into open water where the shad will then flee to another sanctuary cove. Work the cove with shad imitating crankbaits for best results. Our best lure was a Lucky Craft Bevy Shad in shad color. Look further out for striper schools that really like spoons right now.
Coves with no trapped shad also had no predators. It is possible to run quickly to the back of many coves before finding the shad school. The school we saw contained thousands of shad and covered perhaps a length of 20 yards of shallow water from the front of the school to the back with a width of 20 feet. Find shad now in the southern lake and fishing success will follow. There are more shad schools in the northern lake so it may be more challenging there. In either case the best catching action is now in the very back of the canyon from a bottom depth of 40 feet to the shallow end of the cove.
This is the last regular fish report of the year. We head out on the lake for the next three weeks to sample with gill nets to document population size and fish health. Updates will be found on 
Wayneswords.com throughout the winter.