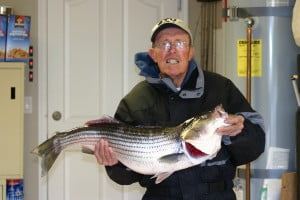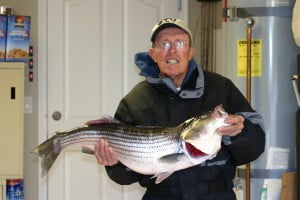 Photo Caption: Ray Young, retired fishing guide from Page AZ,  caught a 15.4 pound striped bass in Navajo Canyon using a whole anchovy on a slow trolling rig about 2 hours after dark. Stripers are nearing the spawn which makes them active at night and dormant during the day. Trophy fish are more likely to be caught at night during May.
Lake Powell Fish Report – May 1, 2012
Lake Elevation: 3635
Water Temperature 64-66 F
By: Wayne Gustaveson
On Hold!
Lake Powell is stable and holding at elevation 3635 (MSL) where it has been for over a month.  Water flowing in equals water flowing out with no sign of increased runoff.  This means that bass and crappie nests are still visible.  Water temperature is holding in the low 60's which is ideal for excellent bass, walleye and crappie fishing.    The end result is ideal fishing conditions that will continue for a few more weeks. Here are the details.
Bass have mostly pulled off the nests as fry have hatched following a good spawn in mid April.  But males still guard the swimming fry for a time and are in close proximity to the nest.  Bass are seen cruising in shallow water rather than guarding each nest. But it's not over.  Soon guarding males will abandon swimming fry and reoccupy the nest. They spawn again and start the process over again.  The difference this year is that anglers will be able to see nests in May that are usually covered by murky runoff.  Males will now randomly spawn and guard nests depending on where they are in their individual nesting/spawning cycle.  The end result will be visible bass which are very aggressive on nests shortly after eggs are deposited but slacking off in aggressiveness a day or two after the event.   Crappie follow a similar pattern but their second spawn is weaker than large and smallmouth bass.
Immature bass have really moved into the shallows at the edge of deep water. Young smallmouth are on the edge of the rocky channels and coves while young largemouth are in the brush thickets.  Both species are eager to hit plastic grubs and senkos.
Walleye fishing improves each day.   Many bass anglers catch walleye while fishing for bass. Those specifically targeting walleye with worm harnesses and slow trolling bottom bouncers are doing even better.    Walleye depth is 12 to 25 feet with best location being on the edge of the shallows with deep water access nearby.  Best time to fish is in subdued light of early morning or late evening. It is possible to find a good bass reef while fishing during the day and then return to the same spot after dark to find it taken over by walleye.
Darn stripers!  These critters are thinking about spawning but are not quite ready. That means males stake out a point off the main lake near a potential spawning cove and wait for females to arrive.  The cove would normally be less than 30 feet deep.  Male stripers have been ready to spawn since early April but females are still holding off, hence the inconsistency of striper fishing right now.  Once in place males don't move much and are often dormant during the day.  They can be found by trolling and casting near points.  Spawning will not occur until females are stimulated to spawn by rapidly rising water temperature and increased inflow near a flowing tributary.  The earliest spawn has come near May 10 and has been delayed as late as June 10.  Finding a spawning striper school is the only thing better than fishing a boil.  The only problem is that it all happens at night.