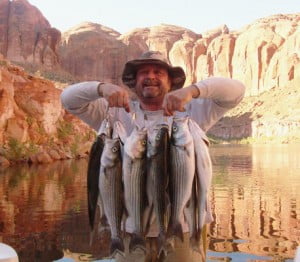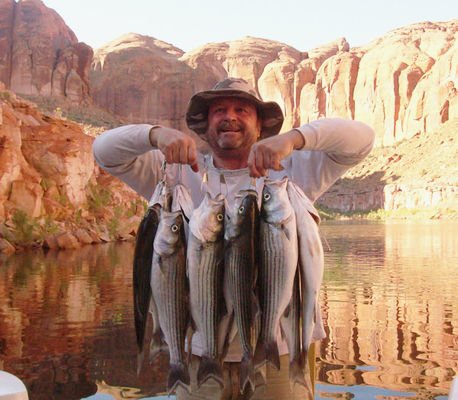 By Wayne Gustaveson
Tuesday, July 20, 2010
Lake Elevation: 3,637 msl
Water Temperature 82-87 F
PAGE, Ariz. — Lake elevation has stabilized and water temperature is at its peak for the summer. It was 84 degrees this morning at sunrise. These factors allow sport fish to settle into a pattern without responding to water level changes. Occasional monsoon cloud bursts are taken in stride without lasting impact.
The water is warmer than most fish prefer sending most deeper during the heat of the day. Young shad take advantage of this and hang out at the surface hoping for separation from lake predators. Striped bass hang out at cooler depth strata but "look up" for a chance at an easy meal from the tiny bait fish. Stripers rise quickly and as a group surround shad, eat quickly and then go back to cooler water. Sometimes the whole process takes a few seconds. At other times a bigger shad school makes it worth working up a sweat to eat more fish and the boil may continue for a few minutes.
Catching fish focused entirely on eating three-quarter inch long larval shad is challenging, especially when the predators have to dive quickly for personal comfort. Here are some tricks to even the playing field a bit until shad have time to grow large enough to be bigger targets.
When a boil is observed try to determine direction of travel so the boat can be in position to cast when fish resurface. The most vulnerable time for slurping stripers is the first time they break surface in attack. Almost any lure cast to a fish as it breaks surface will be eaten.
More likely the boat will be in casting range when the school is headed for deep water. Follow the diving fish with a small diving lure like a Lucky Craft pointer or rattletrap. The most versatile lure is one that will descend quickly to the fish holding depth. Spoons and swim baits can be fished on top, at mid depth and in the deeper cool zone. Vary speed of retrieve until it is apparent that fish want it fast or slow. That speed preference seems to change throughout the day.
Catching slurpers is challenging. This activity is found lake wide and seeing slurps morning and evening is assured. Boiling fish are found more often uplake when cooler water is closer to the surface because of the recent heavy runoff. Best boils and highest catches are coming from Good Hope bay to Hite.
Don't forget bass with all the surface striper chasing going on. Casting a plastic grub in smoke or watermelon color at fist light in the morning is almost a sure thing. Again the northern lake is best.
Ten-inch smallmouth are ever present over the length of the lake. Little bass and sunfish provide great sport for kids learning how to fish. Take some time out from water sports to teach a youngster the joy of fishing. He or she will be forever grateful. Small hooks and live worms are all that is needed. The same goes for catfish. Fish cats in the evening at supper time and bass in the early morning or under the shade of the houseboat. Can it be that easy? Try it and see.