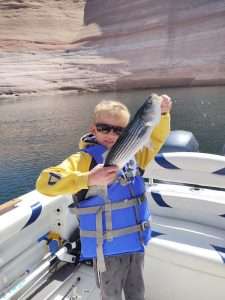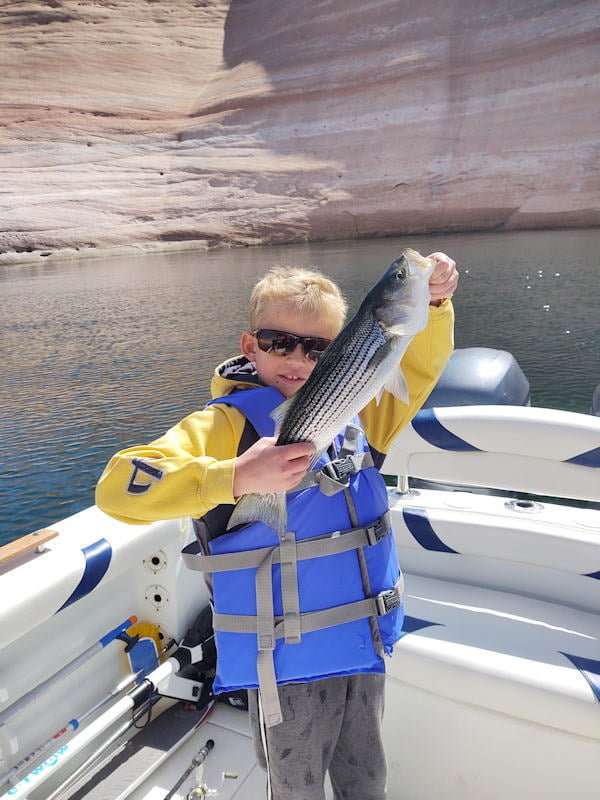 Two Brothers from Colorado enjoying Lake Powell
April 2021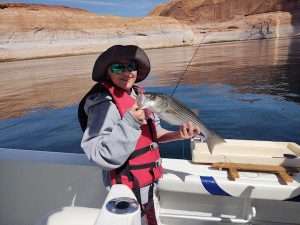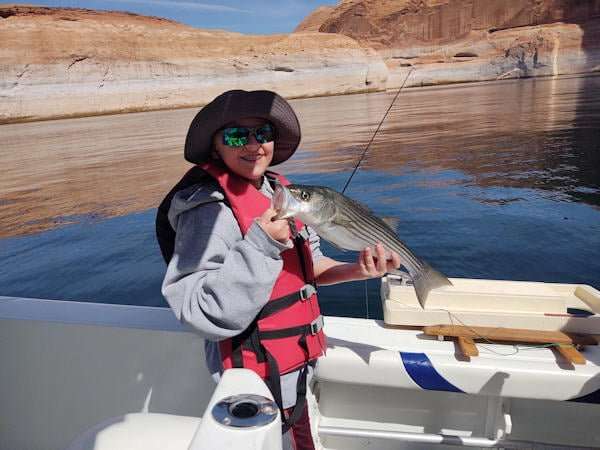 Lake Powell Fishing & Current Outlook
Lake Powell Elevation:     3564.45
April 17, 2021
Stripers are staged at most past staging locations to the main channels and some canyon points as well.  Keep in mind some of those locations are deep underwater locations not visible.
Striper conditions run in 3 categories being poor, medium, and choice due to spawning and availability of bait fish.  Ambassador Guides only allows the choice fish to be keep fir clients for a quality eating experience.  The others need to heal or fall into the food chain naturally.
Smallmouth bass are picking up and using crayfish colored Yamamoto tubes and plastic on t 1/8/1/4 oz. jib heads.  Scan your shoreline structures of broken rock for best results through May.
Important note:
Lake is at as 40% capacity and all shortcuts (Castle Rock) are gone to access up Lake. This adds to your time and fuel costs plus the possibility to rough water especially when returning to Wahweap Boat Ramp at the end of the day.  All the traffic and afternoon winds are the "new norm".
If fishing, I recommend get out early and return by noon for best boating conditions.  I am offering a 5 hour (1/2-day trip) for $575 for 1-2 anglers and $50 for each additional.  If wanting a full day?  I recommend 2- ½ days to avoid the best boating conditions if booking with Ambassador Guides.  Full days are available, but you are facing the conditions as mentioned above.
Ambassador Guides operates 2- Offshore boats for rough water safety with twin engines due to 40+ years of experience for you and your party's safety.
April/May mostly booked full already and good fishing through the summer looks "very positive".  As warmer temps arrive during the mid-summer, book the 5-hour trip for out early and in early to beat the heat.
If you are launching from Antelope Point Marina, they are exclusively doing launch and retrieval only from 9 a.m. to 5 p.m. only.  The public ramp is closed this year due to low water. 
Tight Lines,
Capt. Bill