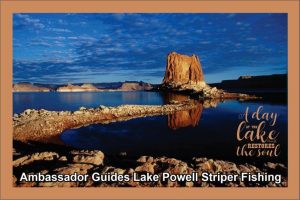 What's Up with the Stripers?????
Answer? No one really knows. A probable theory might be they have ben gluttening on bigger gizzard shad all last year and through the winter as well and stripers have a tendency to set out a few months and live their their "fat" build up from gorging. If a hunger moment happens, there is an abundance of shad nearby to put them back to full satisfaction mode.
We can find them, mark their depths and chum them but very few are takers!.
Smallmouth are the "to to fishing experience" at the moment and we try turn on the stripers everyday hopefully to be there when their feeding switch gets turned on. Best place to be is still on the water and the bonus is "catching some fish".
Lake Powell opens up full on beginning Friday and I am getting booked so will continue to have updates for you as I am able to be out there more often. Stay tuned as "we tune up" fishing Lake Powell.