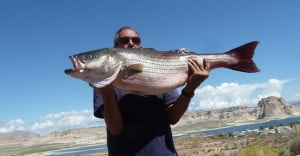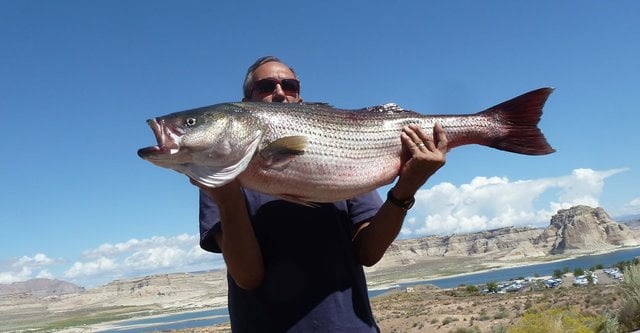 Photo Caption: Roger Hensler, Scottsdale AZ,
holds his big striper shortly after weighing it. The big fish weighed 32.5
pounds, was 44 inches long and 27 inches around. He caught it on a Blue and
Chrome Rattletrap trolled near the mouth of Balanced Rock Canyon on Lake Powell
Lake Elevation: 3591
Water Temperature 76-80 F
Two big events happened this week #Lakepowell .  First, big runoff from recent storms actually allowed the lake to rise 2 feet during the current drought. Second, the biggest striper of the year was caught.
Record rainfall caused the lake to go up as water from floods in Colorado came downstream and rain over Lake Powell helped the lake level increase. The immediate impact of water level increase may allow  the public launch ramp at Antelope Point to stay open another week or two.
The other big event happened when Roger Hensler from Scottsdale AZ, left camp in Balanced Rock Canyon and began trolling a blue and chrome rattletrap across the main channel heading toward Mountain Sheep Canyon. Here is his story in his own words.
"Saturday morning, still dark and my buddy Scott had the coffee going. We unwrapped some homemade rhubarb bread my wife made. As usual Scott was anxious to get to fishing. This was our last day of fishing before heading back to Scottsdale. I always like to troll for stripers so I was in the back of the boat on the fishing seat. I was letting out the 50 lb. supper braid from my quantum sixty spinning reel. In the past I have caught salmon in Alaska and blue fin tuna off San Diego. Scott always thinks I'm nuts using it on Lake Powell but today I would make him a believer.
We were camping in the back of the bay in Balanced Rock and decided to head across the bay to Mountain Sheep Bay. It was 5:30 am and the light was grey and getting brighter. We were clearing the mouth of the bay, just starting to get into the big water when suddenly my pole nearly bent in half and the drag started singing on my reel. I screamed "Houston we have a problem". Scott shut down the boat speed looking back to see what was happening. He saw he had to stay with the fish or it was going to spool me. Mayhem broke loose. He kept yelling "don't horse it". The big bass went deep. "Don't loose it, don't loose it !". After several runs he started to tire. When we finally saw color and the size we shrieked with anticipation "OMG!" We circled with the fish as it was starting to surface on one side of the boat. We tried to reach out for the fish and it went down under the boat towards the front so I followed it around the bow. Got it next to the boat and grabbed it with the fish lipper. I got my hand under one of its gills and Scott the other as we lifted Mr. Bass into the boat. Adrenaline was up and we were so happy. I think we both had tears of joy. High fives and breakfast beer was a celebration toast.
We decided to go to Dangling Rope Marina to get it weighed and recorded. By now it was 7:30 and the deserted marina wasn't opening till 8. There was no way to properly weigh it here so it was put into the freezer truck to keep it until the next morning. We picked it up as we left the next morning so someone could verify it. We ended up at Stix Sporting goods. The word must have gotten out and Wayne called in as we were standing there. He graciously met us at his office to officially weigh and record it. The fish weighed 32.5 lbs, 27" girth & 44' long. When we cleaned it that afternoon we found that nothing was in its stomach except a crawdad. Obviously it was on the prowl for breakfast when we came along. This fish of a lifetime is getting a fiberglass mount. Lake Powell is where its happening. Roger Hensler "
In other news, the second week of UDWR electrofishing survey to determine young fish production and survival was completed.  Smallmouth bass were the most abundant sport fish species caught. This was expected as smallmouth bass prefer rocky habitat.  Largemouth bass and crappie were missing in action since they need brushy nursery cover to survive in good numbers. These low water conditions favor smallmouth bass, striped bass and bluegill. Shad abundance will be determined next spring by the amount of nitrogen and phosphorus that is biologically available in spring runoff.
#Lakepowell Stripers are still boiling and chasing spoons in the San Juan. Spooning is working in Good Hope Bay.  Smallmouth bass fishing is excellent now lake wide. The catfish bite is on. September on Lake Powell is awesome.