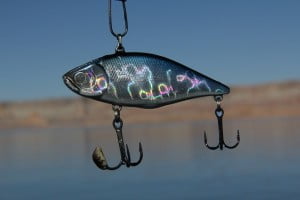 Photo caption: While fishing for stripers in Warm Creek my lure ticked the bottom momentarily. It was long enough for a small quagga mussel to snap shut on the hook. This is my first shell-hooked catch of a live mussel. If a mussel can bite a rattletrap there is no reason that it could not catch an anchor rope,ski rope or any other object under the water. Make sure to clean, drain and dry your boat when leaving Lake Powell.
Lake Powell Fish Report ­ March 24, 2015
Lake Elevation: 3591.25
Water Temperature 55 – 63 F
By: Wayne Gustaveson
This is an incredible time to be on Lake Powell. Spring arrived early with warm temperatures and no wind. The calm water is so picturesque that it is hard to break away and concentrate on fishing. All the fish are noticing the warm water as well. It's a month early but bass are lining up to spawn. If the water continues to warm bass may move on nests next week. Regardless, the prespawn fishing success is awesome.
Smallmouth bass are the most cooperative fish right now. Fishing success is temperature dependent making afternoon fishing prime time.
Use plastic single tail grubs or tubes along primary and secondary points near shore. The warm water is found in shallow water with deep water still fairly cool. Find colored water for most consistent results but some bass are now being caught in clear water as well. Bass can be caught anywhere from the shoreline to 25 feet deep. Cast shallow and work the plastic bait progressively deeper along the rocky point until a fish is hooked and then recast to catch another.
Largemouth bass were caught occasionally while using these same fishing techniques. It helps to find some semblance of brush to locate largemouth bass habitat.
The best news is that all these fish are fat and healthy. Many rotund, 2-pound smallmouth were caught this weekend.
Crappie are also showing up in these warm conditions. Bluegill and other brush-loving fish have moved into muddy water to find protection from marauding predators. If submerged tumbleweeds or some other brushy material is found in muddy water it is added incentive for bass, crappie and bluegill to set up temporary quarters there until the lake rises and covers more brush. Reports of 30 crappie caught in a day were had this weekend. One 3-pound crappie was caught in the San Juan.
Stripers are following these proceedings with interest. As small bodied fish move into the shallow muddy water, stripers follow. The best reports for big stripers this week came from muddy water in the backs of canyons. Anglers casting jerk baits and lipless vibrators into shallow water were rewarded with big stripers weighing 5-pounds and better. Again afternoon fishing was better after the water warmed in the afternoon sun.
Smaller stripers (16 inches) are eating plankton which is most prevalent in murky water at 5-10 feet deep. Troll or cast lipless vibrators or jerk baits to target these fish. The best option is to troll to find the striper school then cast quickly once a fish is hooked to catch more stripers while the first fish is netted.
Walleye are starting to show up for bass anglers dragging plastic lures long the bottom. They will get more active in April but walleye made an
appearance this weekend.   To target walleye tip
the plastic bass jig with a small piece of night crawler.
All things considered it looks like a very good week to fish for many different species at Lake Powell.