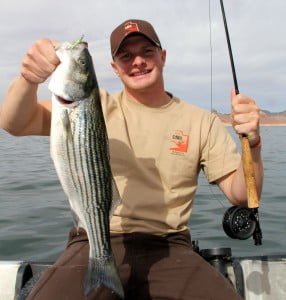 Bransen Jackson, Kanab UT, was given the enviable task of catching striped bass with his fly rod. Bransen is a college student who works for UDWR this summer and was instrumental in collecting the needed fish for a sample when fly fishing was the best collection option.  Thanks Bransen!
Lake Powell Fish Report – June 2, 2015
Lake Elevation: 3597.6
Water Temperature 71 – 75 F
By: Wayne Gustaveson
Slurps!
The fishing report trip this week got off to a weird start. We wanted to get out early to counter the sometimes negative effect of full moon on fish behavior. The moon was bright when we launched at Wahweap and headed straight for Castle Rock to look for fly-eating stripers. My trolled fly went unpunished but my partner's Lucky Craft Bevy Shad was eaten by a striper. That was the exact opposite response found using the same techniques at the same spot last week. We tried one more pass and this time the Bevy was eaten by a walleye.
Walleye fishing is best in low light of early morning. Walleye catch uplake is greater and more prolonged in the murky water near the mouth of Red Canyon. Some anglers report catching more than 30 walleye a day, fast trolling with Mann's Red Craw deep divers. Other anglers are dragging night crawlers along the bottom and catching many walleye. No matter what technique is used, walleye fishing is much better in the northern lake.
Since flies were not working we headed uplake through the Castle Rock Cut. As we idled through the Cut I put out my Helsinki Shad colored Shad Rap and caught the biggest striper of the day. Later we found that the big fish had two large threadfin shad in the stomach. Shad must be using the Cut for migration or hiding spots from lake predators. I don't recommend trolling there unless there is no other boat traffic. It should work fine to troll there between 4 and 5 AM.
The next stop was Buoy 25 and 25B where stripers had been caught trolling last week. It seems moon effect and/or warming water were in play as fishing was not as productive along the slick rock points and reefs as it was just a few days ago. We did catch a few stripers trolling along the shade line in deep water. But fishing was too slow so we went uplake.
The next stop was the mouth of West Canyon. We tried fly trolling without success. We did catch smallmouth when near a shallow reef or when we ventured too close to the shore. After giving up on flies we looked for a new pattern. There was an open water reef that was similar to the reef in Wahweap Bay that had been hot last week. We trolled Bevy Shad lures along the reef edge. The secret was to find the narrow 25 foot depth zone on the breaking edge of the reef. If we kept the boat and lures over that depth zone, stripers would find our lures. That worked well as we caught stripers and bass on consecutive passes.
That would have been a fitting way to end the day but we got an added bonus. As we were playing a troll caught fish, yearling stripers began boiling around the boat. We added another 6 fish to the cooler by casting small Hyper Stripers and Lucky Craft Pointers to the hungry stripers. The boil came up 4 times before they stayed down and we headed for home.
As we passed through Padre Bay we tried the spot where fly fishing had been so good the week before. Again flies did not work. We did graph a huge striper school on the same shallow bench where they were previously caught. One ripe male was caught at 35 feet on a spoon but most of our offerings were ignored. My guess is that these fish have not yet completed spawning and they are still in the night activity mode. The warmer water may be keeping them deeper and preventing fly trolling from working as well as it did previously.
That is the excitement of fishing at Lake Powell. There is always a different technique or location that may turn a mundane outing into a successful fishing trip.