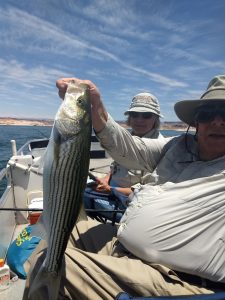 Lake Powell Elevation:  3597.55
Water Temp: 71 degree
Water inflow is peaking at a foot a day and catching can be awesome one day and slow the next.  At this time, we have 2 schools that are still taking bait and one of them is 50 miles up Lake Powell so a full day charter is recommended.  The closer school is a 1/2 day charter.  Two week from now that could all change.  But we keep the reports fresh for what is working currently.
Smallmouth best early as water warms up and by noon you should be heading in or back to camp.  If winds are calm, look for slurping schools early and late away from boat traffic which is very high right now.
The casting class is for Fly Rod, Spinning Rod and Bait Caster.  This is for the angler who "wants to go fishing but doesn't know how to cast.  It will be on deck and shore – 1/2 to 1 hour instructions showing you the fundamental movements and time skills toward an accurate presentation of bait, lure and fly as well as your "basic knots".   Equipment furnished.
Cost:  Spin Cast Lesson 1/2 hour $50 per person
Bait Cast Lesson 1 hour $75 per person
Fly Cash Floating Line & Sink Tip 1 hour $100 per person
Tight Lines,
Capt. Bill