Lake Powell Elevation:   3633.30
Water Temp – 74 degrees  in the early a.m. by 80 degrees  by noon
Monsoons:  A chance of storms will be in and out starting today.  Typically your storms will not produce till the afternoon.  If you are houseboating on Lake Powell,   have your anchors set 3.5 feet down and wide enough to let the boat shift a bit.  A good set anchor will keep you from having issues during any wind with the storms.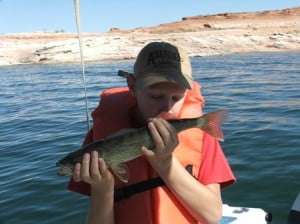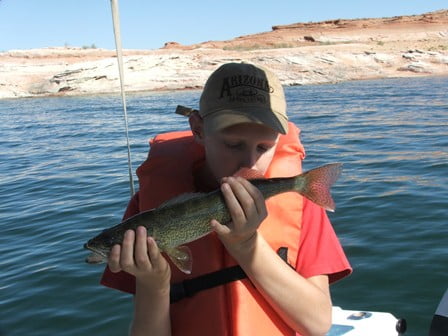 The Sorros Family June 27, 2012
Visiting us from Hungary
Adult stripers this year are staying at about the 50′ range on the perimieters of Bays on the lowers end of Lake Powell.  Look for them to feed in and out of the shallower end early mornings for 1-2 hours then go fish for smallmouth bass on points and dropp off to Boulders.  Troll for stripers with deep running shad imitations use tubes in crayfish colors for the smallies.
Tight Lines
Capt. Bill