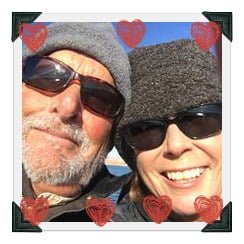 Dear Anglers,
Happy 2018 and hope you all had a wonderful Holiday Season and a great 2017. We have have good winter fly-fishing season with the stripers.  Unless it gets severely colder, I can usually count on a window for stripers to fee in the shallows.  For Spring we have a wait and see to observe as to what is in store because of the lack of snow "so far" in the Rockies this year.  A low run off will be a fair bait bite as bait fish will be the early target which make for fat, contented fish.  You have to pattern the hunt to fish evey year and that's why it is called "fishing". Many anglers forget the thrill was in the hunt, chase  with the catch as the reward.  Alot of anglers who use guides want to catch first and that is expected.  Just fro the human nature of things with the cast and preparation for a trip today.
Our rates this year are geographically in time close to fishing in the Keys of Florida.  For this reason that being the size of our pond  "Lake Powell" with nearly 2000 miles of shoreline.  Our 2 stroke engines get 1 1/2 to 2 miles per gall of fuel and a gallon oil each run with good oil runs $28.00 a gallon.  We are always open for discussion for the day's itinerary to sight seeing, with the fishing and special needs.  Plus our 25′ Tritoon is a comfort for all anglers including the disabled.
For Fly Fishermen we prefer 2 anglers or 3 max. if they are very skilled. For the novice then 2 are the maximum for fly fishing.  We furnish tackle for conventional only.
News from Judy at the Chamber:  With the tourism exploding at Lake Powell and 7 new hotels up and running or breaking ground she recommends booking early to get locked in with the Hotels.  We have 3 Hotels we book with for a 15% discount if you are fishing with Ambassador Guides:  Day's Inn and Suites (928-645-2800), Hampton Inn (928-645-0075) and now The Hyatt (928-212-2200).  You need to call them directly (not the 800#) and mention the 15% discount to get it.  If you are looking for a "no frills" but very clean place we recommend the Red Rock Motel (928-645-0062) (tell them Ambassador Guides sent you).  Their rates are very reasonable BUT they book out quickly.  They also offer kitchens etc.  If you have question on rooms let Judy know via judy@pagechamber.com and she will get you all the pertinent info.
We are also on Facebook at "lakepowellfishing" for regularly updated information.  Also on LinkedIn under Bill McBurney ~ Ambassador Guides. Please connect up with if you have time, and if you have fished with us please give your testimonial if you would on your experience.   Also visit Trip Advisor to rate us as well.  We appreciate all the great feedback we have received.
We look forard to seeing whoever shows up that is new to the Lake Powell experience and are grateful for our customer family and friends of 40 years on Lake Powell and Lees Ferry.
Tight lines,
Capt. Bill