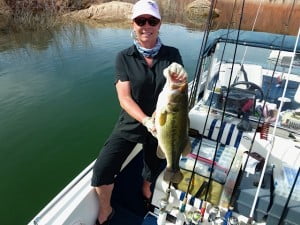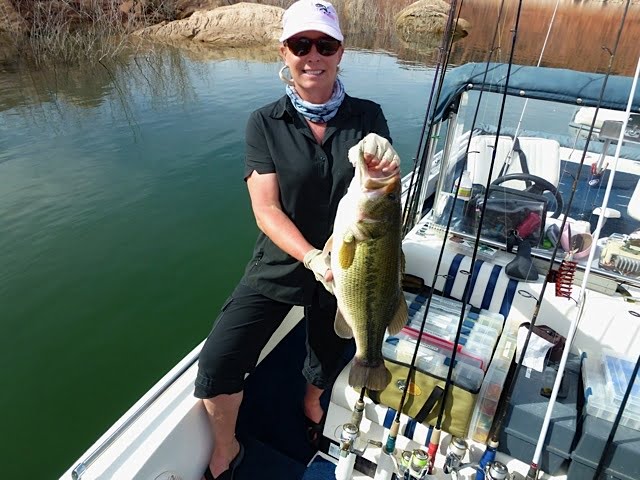 Photo:  Debi Cross, Greenehaven AZ, with her personal best largemouth bass of 6-pounds caught in Lake Powell's San Juan arm. Big bass are preparing to spawn this week.
Lake Elevation: 3635
Water Temperature 52-60 F
By: Wayne Gustaveson
Bass are moving up to Spawn
Water temperature is still a cool 52 F in the early morning. But on calm sunny days water temperature escalates to over 60 degrees in the shallows by late afternoon. Weather is expected to be calm and sunny for the weekend.  Expect both large and smallmouth bass to move into the shallows and begin building nests.  Wind and cold will then return early next week so spawning may not occur but bass fishing will be great right up until the air and water temperature drops.
If fishing this weekend, look for bass along the shoreline in murky and clear water. Largemouth will be in trees often very visible adorning branches in crystal clear water. Look for fish and then return later to throw a long cast at the tree where the bass was seen. If nests are found commit these spots to memory as bass will return to their selected nest site with the next warming period. Remember that bass can spawn as many as 6 different times during April and May. That nest will be in use for a long time even when it is no longer visible after the lake level shoots up with spring runoff.
This weekend it is more likely to find bass holding on the deep water edge of a spawning flat usually toward the back of major canyons but at the mouth of a cove instead of in the very back. Bass stage on primary and secondary points before spawning and then move shallower to actually spawn.  Search deep access routes or migration lanes that lead quickly from deeper water onto a shallow brushy flat.
It is still necessary to fish very slowly giving semi-active or tree-hanging bass time to investigate a bulky plastic grub crawling along the bottom under their bush.  Often the longer pause in movement will result in more bass investigating the lure and then being caught.
Stripers are still holding in 15-25 feet of water within the tree line at the back of major canyons. Trolling over tree tops with shallow running lures is a good way to locate a resting school or find the general location of a loose aggregation of stripers.  Always try to catch another striper as the first troll caught victim is being reeled in.  Followers often accompany the hooked fish. The goal is to finally get a school of fish to stay within casting distance so fish can be caught at will by casting shallow running crankbaits or spoons in deeper water without thick brush. The catch rate climbs dramatically when this occurs. It is common to catch 20 stripers trolling but when a school of fish stays near the boat the catch soars to 40 or 60 in short order.
Effective trolling lures include Lucky Craft Pointers and Bevy Shad, Rapala Shad Raps and Flat raps, and many different kinds of lipless vibrators. All of these lures can be trolled and then cast over tree tops.  It is always a good idea to have a slab spoon handy to drop quickly into a school of fish passing under the boat.   It is my nature to be looking for the next fish to catch even while playing a hooked fish. Stay in tune with the school instead of just concentrating on the one to increase the catch at the end of the day.
Crappie are holding in dense brush thickets as they wait for water to warm a few more degrees which will then result in nest building.
Walleye are completing their spawn which will lead to better fishing success starting in mid April.
Fishing will be awesome for the next 4 days.