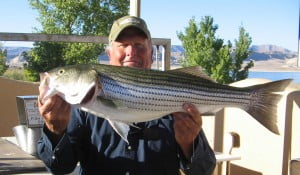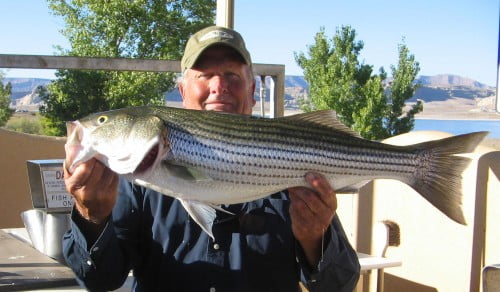 Photo caption: Bill McBurney, Page AZ, was chumming anchovies in Navajo Canyon to attract a striper school when this 13 pound striped bass hit his home made artificial striper fly. That's a big fish to catch on a fly rod.
Lake Powell Fish Report – October 17, 2012
Lake Elevation: 3620
Water Temperature 68-72 F
By: Wayne Gustaveson
Last week fishing success for black bass was as good as it gets in Fall.  Striped bass fishing had been negatively affected by full moon at the first of the month but was beginning to recover in many uplake spots.  But fishing success for both species crashed into a cold storm front on the weekend.
I had occasion to be on the lake both Monday and Tuesday of this week.  On Monday fishing was tough for bass with both large and smallmouth bass lounging in deep water without much incentive to chase my lures. But they can always be found with much searching. This day, smallmouth bass were 20-30 feet deep on long rocky points with brush. They were only on the exact end of the point and not scattered all along the point as is there custom.   Fishing success was much better in the afternoon.  Striped bass could be caught in their deep pocket sanctuaries at the first deep drop (40-60 feet) near the backs of canyons where shad still hide.
Then on Tuesday it was amazing to be there and watch bass move back into the visible shallows where they had been absent the previous day.  Morning fishing was much better on Tuesday. Striped bass also moved into shallower water searching for shad schools that are still hiding in the backs of the canyons. These shallow stripers were easy targets with spoons fished in 20-40 when stripers were seen on the graph.  Occasional blow-ups of one striper chasing one shad marked the location of the larger school on the bottom. After the morning journey into shallow water stripers headed right back to the 60-foot holes closest to the shad sanctuaries. The take home message is that fishing for both species is back on track and expected to be excellent for the next few days until the weather changes again.
The best fishing plan is to approach each day as if it were late April or early May.  Cold fronts really impact fishing success. Fish are prone to be very tight to a certain type of cover.  Afternoon fishing success is often better than morning. With temperatures now in the high 60s both bass and stripers are at their ideal temperature range. That translates into excellent fishing opportunities. The only challenge is to find when and where they choose to move and eat.  Find their pattern and success is assured. Pay close attention to where fish are caught and then try to duplicate the exact habitat type and fishing technique in the next canyon or cove when searching for more fish.
Best striper fishing this week is expected to be in Warm Creek Cottonwood near the old trees.  Navajo Canyon from the Sand dune back to where water depth is 30 feet.  Gunsight canyon where the main canyon water depth is 30-70 feet. Last Chance in last canyon on east side.   Main Rock Creek in the back where water is murky. San Juan in Neskahi Bay. Escalante near the Indian Ruin. Slick Rock canyon at the 30-70 foot depths.
In the northern lake Good Hope Bay striper fishing has slowed while catching at White Canyon has improved.  It would not surprise me to see boils in striper city (Horn to Trachyte) as shad are abundant from Good Hope upstream. Launching at Hite is still good.
All main lake stripers can now be caught on spoons or bait.  The best combination may be to chum with bait to keep the school under the boat while fishing with spoons to catch active fish as quickly as possible.  Top water fishing is good at first and last light. Most success comes from blind casting near brush in the absence of any signs of boils.  Shad schools are small and shallow in the very back of many brushy or weedy canyons or coves.
The crappie bite has started and walleye are showing up again. Fishing is excellent for those that really like to match wits with fish that are moving and changing locations often throughout the day.