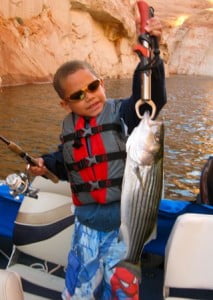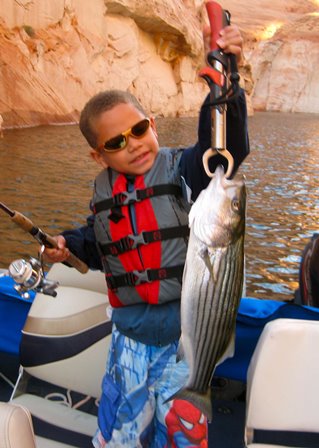 Photo caption:  Cal Evans from Salt Lake
City UT, sent a picture of his grandson's first striped bass caught on a
Kastmaster spoon, jigged on the bottom at 35 feet near Cedar Canyon. Spoon
fishing is currently the best presentation for striped bass in the lake north
of Bullfrog bay
Lake Elevation: 3589
Water Temperature 77-80 F
By: Wayne Gustaveson
September may be the best fishing month of the year when all factors are considered.  Water and air temperatures are still warm during the day, but the nights are cooling off making camping conditions excellent. With Labor Day weekend in the past, visitation by recreational boaters decline while fishermen start to return. The lake calms down a little with less fast boats and more slow fishing boats.
Access is an issue with the current lake level being quite low. Be aware that launching is not possible in the Hite area or at the Castle Butte end of Blue Notch road. Boats are able to launch at Bullfrog Marina but much care is needed to make sure hidden rocks and sand bars are avoided when motoring away from the ramp. There is an alternant ramp under construction that will improve launching considerably as the lake declines, but this week the new ramp is very shallow without much slope for launching and the public ramp is not much better.  The best place to launch midlake is at Halls Crossing as that ramp is open and operating well. The ferry is in operation if that helps with the logistics.
In the southern lake, Antelope Point ramp will be closing in the near future as the lake declines another few feet.  Wahweap main ramp presents the best launching conditions. Stateline is open and conditions are good, just be aware that the slope of the ramp has flattened and large boats are better off at main ramp.
Fishing conditions are much that same as water temperature continues to climb to 80 degrees each day. Warm water keeps larger stripers trapped in deeper, cooler water where shad are absent. Bait fishing is still great for adult stripers. Main channel shade lines are a great place to start looking for hungry fish. Add a canyon mouth to the shade line and stripers should be close by.
Smaller stripers are hitting the surface where shad are available. From Bullfrog north there are some shad seen. The best midlake spot is in Bullfrog Bay. Look for individual stripers hitting the surface early each morning.  These fish are catchable if a surface lure is placed near the splash ring. The best option is to fish spoons at 35-40 feet near Dome Rock which is just toward the back of Bullfrog Bay from the houseboat buoy field. Bait fishing off the houseboats in the buoy field is working great at night under green fishing lights.
Small yearling stripers are still being caught on small pieces of bait near the Glen Canyon Dam buoy line. Invest a handful of chum cut in small pieces to get the school of little fish going. Catch a few and then chum again to keep the school excited.
Smallmouth bass are still hitting dropshot baits with shad shaped worms working very well lake wide. Look for a deep drop at the edge of a shallow rock field or a cliff face with shade and broken rocks to locate bass. Drop the bait in the shade of a ledge to find willing bass.  They are quite aggressive so move quickly along the edge of structure until a school of fish is located. Then catch a bunch from that one spot.
Catfishing is excellent. Use table scraps to catch a nice bunch of catfish from the beach behind your boat then use Cajun spices to blacken a bunch of catfish fillets for your next meal.