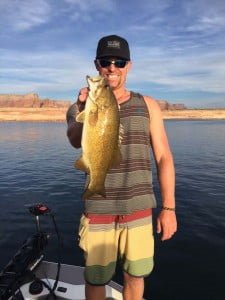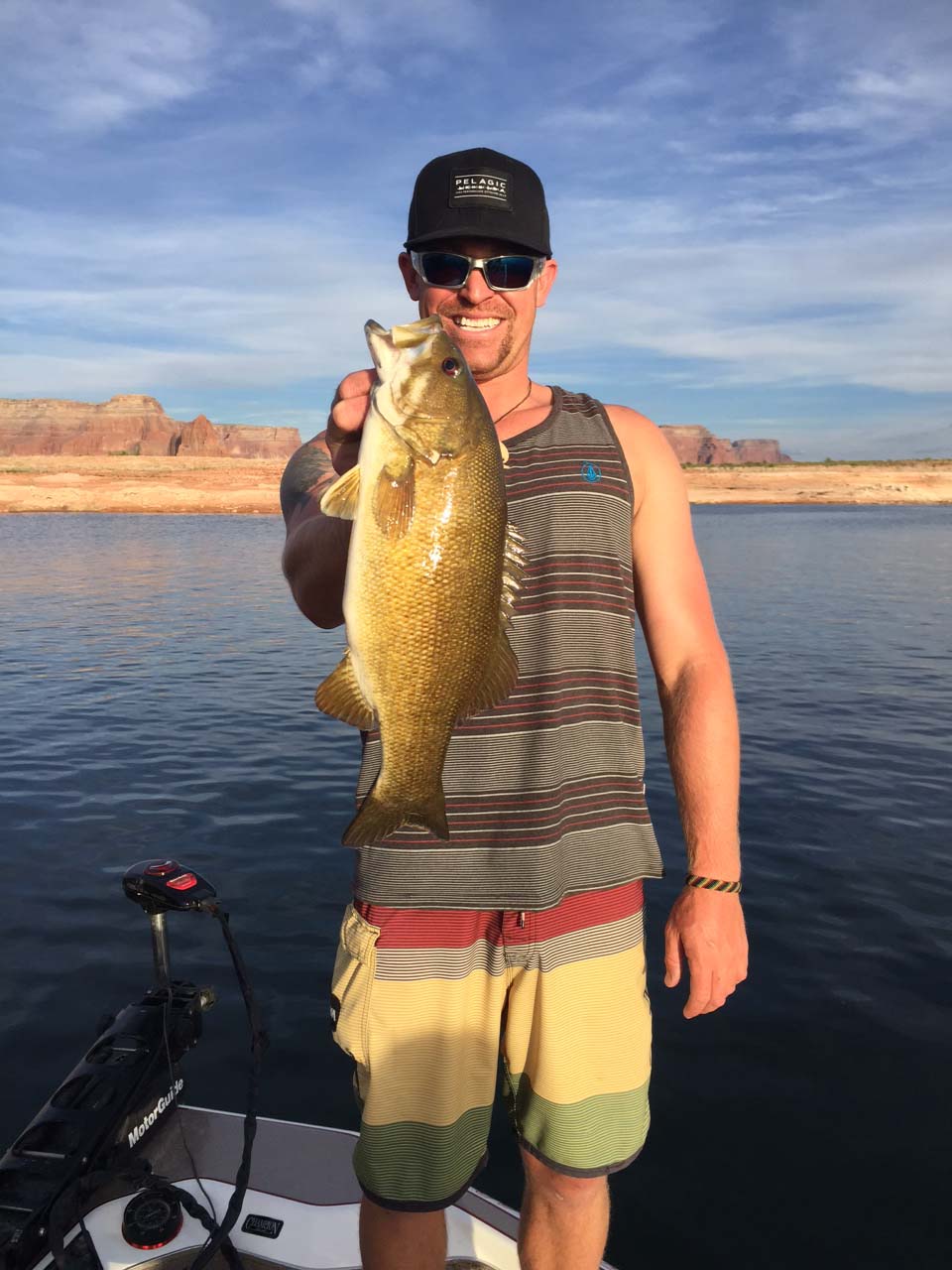 Shane Spravzoff, Flagstaff AZ, caught all different kinds and sizes of fish in Lake Powell during the first weekend of May. Fishing will continue to be great for the whole month in this magical year for catching healthy, large fish in the most beautiful lake in the world.
Lake Powell Fish Report – May 6, 2015
Lake Elevation: 3589.8
Water Temperature 62- 70 F
Fish reports from the first weekend in May are rolling in and all agree that last weekend was the very best fishing of the year and perhaps the best seen in a very long time. All species of fish were caught along the length and breadth of the lake. Smallmouth bass were the leader by a country mile followed about equally by largemouth bass, crappie, and walleye. Stripers came in last but there were a few clues to help find them in the coming days.
Smallmouth bass were actively spawning in the mid to northern lake. They are very aggressive when the first eggs are laid but then become more docile with each passing day. Weather is now blustery with scatter showers and cooler weather. But water temperature remains above 62 degrees so bass will continue to guard nests and be easily caught. Smallmouth techniques were evenly divided between square bill crankbaits cranked near shore and plastics fished along the bottom from shore to 25 feet deep. It seems crankbaits and spinner baits were best early and late while plastics were better mid day.
Largemouth bass are randomly caught while pounding the shoreline looking for smallmouth. It seems largemouth are done spawning but they are actively chasing sunfish and crayfish in submerged tumbleweed shelters in the backs of coves. Largemouth are caught frequently but compared to smallmouth they are outnumbered 10 to 1.
Crappie are actively spawning and have been found on nests in open water far from brush. The falling lake level with clear water makes them easy to see but they look back and see the boat so they are not always easy to catch. Small fish imitating lures are best. Try 1/16th ounce weights on 4-6 pound test when specifically targeting crappie.
Walleye are showing up more often now. The magic depth is 15-20 feet. The best lures are plastic tubes and grubs that move slowly along the bottom. A piece of live worm is a good enticement and draws response from crappie, bass and bluegill as well. Bluegill occupy tumbleweed piles in 10 feet of water and less. Walleye hang at the 15-foot area and move in shallow occasionally to invite a bluegill to lunch.
Stripers are still difficult to find. The problem is romance related. They are up all night and tend to go to sleep first thing in the morning. I went out early today and found stripers much easier to catch at first light than at mid day. The vulnerable stripers are in open water where bottom depth is near 25 feet. These 1 and 2 year old fish are eating plankton and can be caught with small trolled lures. Our best lure today was a ghost colored Lucky Craft Bevy Shad 75. It runs about 8 feet deep and is small enough to excite the plankton-eating fish.
The larger mature males and females are separated from the small fish. They hold in larger schools in deeper water. Big schools were found at the mouth of 50-mile Canyon in the Escalante arm and in Bullfrog Bay near Buoy 94. The 50-mile fish got away because they could be seen but not caught. The Bullfrog fish were harvested in abundance with anchovy bait after extensive chumming and precise positioning over the stationary school.
If big striper schools are seen in deeper water, mark the spot and chum to wake them up. Once caught on bait they can be kept active with small spoons and jigs. I caught schooled stripers today on Kastmasters and shad shaped worms. Once active they just need something to eat. Feed them as quickly as possible before the boat drifts away from the school.
After the blustery week is over expect fishing to improve again as water warms. Fishing does not have to be as good as it was last week to be incredibly exciting.