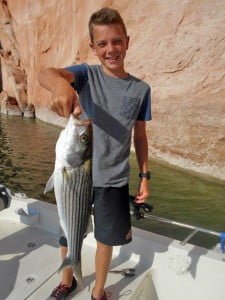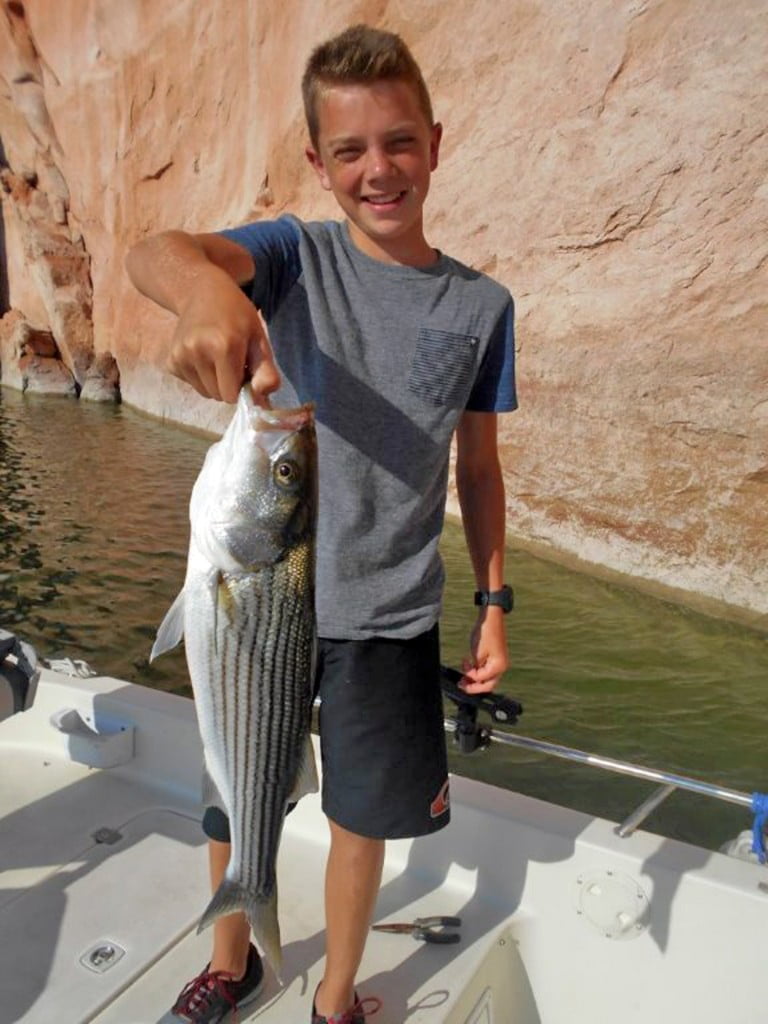 Ethan from Durango Colorado enjoyed catching big stripers in a "boil" near Rock Creek. Those big fish are still there but were better caught this week on spoons. Find small fish boiling on top and then fish under the boil with spoons to catch larger stripers
Lake Powell Fish Report – August 21, 2015
Lake Elevation: 3610
Water Temperature 80-85 F
By Wayne Gustaeson
Stripers are changing their schedule and location. As soon as we get them figured out they do something else. The big boils on the San Juan last week turned into little boils over the weekend. San Juan is still a good place to go but the successful fishing technique is different.
Let me explain by sharing our experience from this morning. Reports of boils uplake took us to Rock Creek early this morning. We looked in the main channel between Rock Creek and Dungeon Canyon well before the sun came up. When no surfacing fish were seen on top we began a large circular path around the mouth of Rock Creek. We soon saw tiny but numerous splashes against a canyon wall. These fish would swirl on our surface lures but not hookup. When I finally caught one, we discovered that these fish were yearlings happily chasing shad but our full size surface lures were too big for them to consume.
The choice then was to downsize our lures to catch the little surface feeders or to fish deeper water looking for larger fish. Jigging spoons, bucktail jigs and Kastmasters were deployed and immediately 2-4 pound stripers were being hoisted into the boat. Catching continued for the next hour with big fish hitting our deep spoons anywhere from 20 to 60 feet deep. We just followed the little surface feeders and fished under the surface action to catch some really nice fish in a very short time. We ended up with 36 stripers caught in one hour.
Let me explain what's happening right now. The water surface temperature has climbed back into the 80s with the recent hot weather. Larger stripers cannot stay in water warmer than 80 degrees for more than a minute or two. If they exert lots of energy in the warm surface water they build up lactic acid in their muscles and cramp up, or worse, die from the exertion. These big stripers watch the yearling stripers feed on top and follow them hoping that a wounded shad sinks or an escapee runs into deeper water.
Right now the small stripers mark the location of the larger fish. The big fish are easy prey to a lure resembling a dying or wounded shad. The very best lure is a heavy slab spoon that sinks quickly to deep cool water where big fish are waiting. A heavy white bucktail jig or a heavy Kastmaster spoon work well also. Find the school of big fish on the graph. Drop the spoon to the bottom if they are deep or stop the lure at mid depth if the school is suspended. Perhaps the easiest technique is to drop the spoon to the bottom, jig it up twice and then speed reel it back to the surface. I stop the spoon and jig it once or twice before speed reeling again. Stop it at 20 foot intervals to convince the following stripers to eat the fleeing shad (spoon) as it starts to swim once more.
Spooning under surface feeding yearlings works lake wide. Spooning is the best technique now even if boils are not seen. Graph the bottom contour looking for big striper schools. When a school is seen, mark the spot and drop spoons into the school. Best time is early morning. Second best time is evening.
New boil spots are being reported. Buoy One, Mouth of Navajo Canyon, Rock Creek, San Juan, Escalante, Good Hope Bay and beyond are still experiencing boils. Most of these are from small fish so look for large fish in deeper water. Over the rest of the lake, locate striper schools on the graph and then spoon to catch many fish. This is working in Last Chance, Moki Canyon and 100 other spots.
Finally there were big stripers caught on bait down by the dam at the buoy line this morning. Fishing is picking up but the weather is changing from hot to rainy. It will be interesting to see what changes are in store for Lake Powell fishermen in the coming week. I will track the changes and report next week.
–
Quality of life is measured by amount of time spent fishing.
Wayne Gustaveson