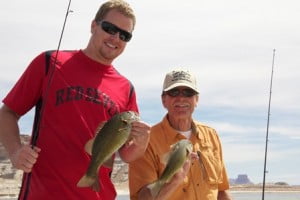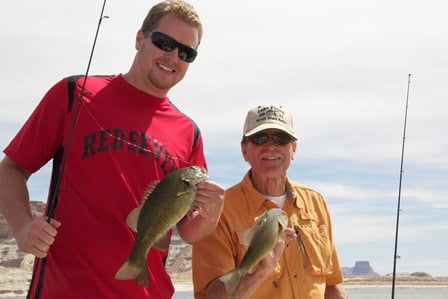 Photo caption: Wayne and Mark Gustaveson had a fun day fishing for bass. Water is warming allowing bass to move into shallow water  to spawn. The fish can be readily seen and caught.  Bass Fishing will be great for spawning bass for the next 3 weeks
Lake Powell Fish Report – Lake Elevation: 3635
Water Temperature 52-60 F
By: Wayne Gustaveson
Fishing is fantastic as long as you are fishing for bass in the afternoon.  Bass spawning is imminent.  It may take another week due to unsettled weather but fishing will remain very good for bass for the rest of the month.  Water temperature still declines into the mid 50s overnight but by afternoon water in the backs of the canyons and coves warms to the mid 60s.  This warming and cooling cycle produces the best bass fishing of the year.
Sight fishing for very big bass makes fishing very exciting.  Bass are cruising the shallow shoreline looking for nests sites.  Water is often crystal clear making bass very visible as they leisurely swim from one clump of brush to the next.  The secret to actually catching bass is to put the lure in front of them before you see each other.  Bass can see you as well as you see them.  One approach is to mark the spot where a large bass or nest is seen.  Return a few hours later.  Throw a long cast to the bush where the bass lives.  Let the bait rest on bottom for at least a minute or two and then twitch it once.  That should result in a hook up if the bass is still there.  The best lure this week was a 5 or 6 inch Yamamoto Senko fished on an offset worm hook.  Fish it very patiently.
The good news about early warming and small runoff is that sight fishing for cruising and nesting bass may be prolonged into May. Bass nests made this week may still be visible and only a foot or two deeper during May.  Bass fishing will be good enough that all anglers will be successful.  So remember to release largemouth bass and male smallmouth bass that are guarding nests. It is fine to keep smallmouth bass 12 inches and smaller.
Crappie are hanging in the submerged trees and are visible in clear water.  They too will be on nests by the third week of April if not earlier.  Crappie limit is 10 fish as we try to protect the population for future years when brush inevitably declines and survival of young crappie will be more difficult.  Keep 10 crappie and release the rest for another day.
Striped bass are a bit of a mystery.  Yearling stripers up to 15 inches are eating plankton in the back of the canyons in treetops where bottom depth is 15-25 feet.  Trees stick up to 5-10 feet under the surface. Trolling and casting very shallow running crankbaits is most effective during morning and evening hours.  Larger stripers make occasional appearances in the treetops but most of the time they are missing in action.  Finding big stripers is a random event.  The most successful pattern is to troll or fish deep running spoons and jigs along drop-offs where depth changes rapidly from 40 to 25 feet. Isolated schools are very cooperative when found but very difficult to locate.
Adult stripers are not often seen on the graph in deep water, and are more likely to be found toward the back of the canyon or along the edge of the main channel. They have not moved toward the channel or the Dam.  Do not expect to find large numbers of stripers in the deep water channel this spring.  They are fat and lazy living off stored fat from the many shad that were eaten last fall.  They will stay in the backs of canyons until water warms into the 70s.
Fishing will be excellent during the rest of April in between the cold storm fronts of springtime.