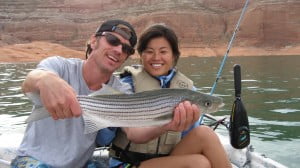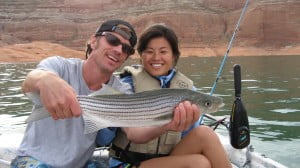 By: Wayne Gustaveson                         August 18, 2010
Lake Elevation: 3636                Water Temperature 78-82 F
 
Adult stripers are now separated from shad forage in the main lake.  Predation from all game fish has been intense and very effective for the past two months.   What shad are left have moved shallow into the warmest water with brush where adult stripers cannot effectively follow. Small yearling stripers still chase shad on the surface each morning and evening but large boils are confined to the inflow areas and to isolated coves where stripers have close access to deep cooler water.  There will be another short boil season when water temperature drops in late September but for now fishing techniques must change.
 
While boils have ceased, catching stripers became much easier.  Adult stripers are hungry and very willing to eat bait presented to them in holding areas.   The classic holding spot features very deep water, such as a steep cliff along the main river channel, which ends suddenly in a shallow flat area, or an isolated rock slide. Stripers without shad search for crayfish which are found under rocks in shallow water.  They hold in deep water and make quick feeding trips to rock slides and shallow rocky flats.   Just think of areas that have produced good striper fishing in early May when bait fishing is good. All those spots should now be in play once more.
 
Expect to find striper schools holding at the dam, buoy 3, buoy 9, buoy 12 (Warm Creek Wall), Navajo Canyon, mouth of Labyrinth, Last Chance near main channel rock slides, Rock Creek mouth. At mid lake the mouth of Lake Canyon, slick rock points near Lost Eden, mouth of Halls Creek, Bullfrog Bay (Dome Rock) and points upstream from Moki Wall.
 
From Good Hope bay upstream shad are still available so striper boils continue. The same is true in the upper San Juan.  Stripers are in prime condition where shad are plentiful.  Condition is still good in the lower lake but stripers are no longer growing. Average fish weigh 3.5 pounds.
 
Bass fishing is still good most days for those that fish drop-shot or Carolina rigs with soft plastic baits down to 30 feet.  Fish slowly to entice a bite from curious bass.
 
Catfish are very willing to eat and provide great sport near camp in the evening hours. Numbers of visitors have diminished making the lake more attractive for anglers.  With the change in shad forage it is now recommended that all stripers caught be kept. It is time to save shad once more. "Catch and Keep" stripers for the benefit of all fish species in Lake Powell.