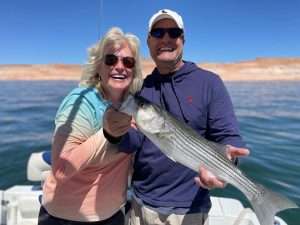 Sally's First Fish with husband Eric  at Lake Powell!   5-14-22
Lake Powell Elevation:  3523
Water Temp:  60 degrees
Water temperatures are stabilizing for all species on Lake Powell for "trolling, bait fishing, fly fishing".  Top water times will be early morning and late afternoons and will be excellent in the next 10 days and expect the fish to move deeper as the shallower water heats up quicker due to the lower water in the reservoir for the month of July.
Early starts and late afternoons your best artificial bait times as the bait fishing has moved to deeper water around 40-75 feet.
Fishing tip for the summer:  If scouting fish by your electronics, do not waste your time fishing massive schools (icons) that are tightly grouped.  These fish are in fair to poor condition and are dying.  Your best quality fish will be found on the perimeter of these schools and few in numbers.  After catching quality fish, it is best to move on to another school.   Look for your best quality Striper fish while fishing smallmouth and trolling deep diving lures lakewide.
Tight Lines,
Capt. Bill
Some catches from this past week!