Fish are grinning at Lake Powell.  All of the little necessities for successful fish life are perfect.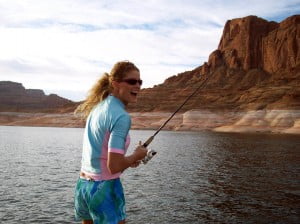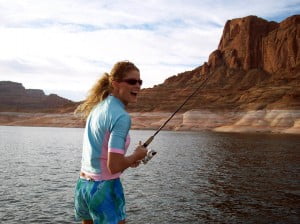 Photo Caption:  Raquel Dibble, Perry UT, is thrilled to hook another striper out of striper boils last summer.  The excitement of fishing at Lake Powell will begin in March and continue through November. Fishing in 2010 will be just about as good as it can get. Come join us.
There is enough snow in the mountains to make the lake level rise just a little bit above the level attained last year. A modest increase would allow the lake to lap at the remaining layer of green brush that has been growing on the lake shore since 2002 when the lake declined due to drought.  The effect of brush along the normally barren rocky shoreline created much more living space and shelter for all fish.  It has been a long road back but the journey has really been worth it.
The drought silver lining had some positive effects. The lake was low enough that waves stirred the old bottom sediment releasing long buried nutrients. Added nutrition created a bumper crop of forage fish which in turn enhanced the populations of hungry sportfish.
Lake Powell has long had only one forage fish that ventures into open water.  In 2000, gizzard shad were found in the lake. Today that second shad population is huge and the threadfin population is strong.
This all translates into great conditions for fish but what does it mean for anglers?
Anglers will have to adapt to be successful. That wont be hard for those pursuing largemouth. Bucketmouth bass love brush and wont venture far from it.  Those accustomed to fishing for largemouth will be right at home casting lures into brush thickets and dragging them back with fish instead of tree limbs attached.  If this is new to some they will have to invest in spinnerbaits, weedless lures or learn to embed the hook inside a plastic bait to allow it to swim through tree branches without hanging up.
Smallmouth numbers are high. Fish are generally larger than last year. Luckily anglers can use traditional techniques to catch these rock loving fish. The subtle difference is that bronze bass will chase lures in open water more often now in response to the higher number of shad swimming in the upper water levels. Bottom feeding bass can be caught too.
Striped bass are fat and constantly chasing shad. Those expecting incredibly easy spring time bait fishing will be disappointed.  Stripers migrate to the dam and main channel when food is scarce.  That is not the case in spring 2010. Fat stripers will be in the backs of the canyons near shad schools.  Cover lots of water while trolling deep diving baits. Each time a fish is caught, stop the boat and try casting, spooning or bait fishing to increase the catch. If the school moves on then troll again to relocate them.  Then repeat the catching process each time the school is in range.
Walleye are one of the bonus fish for 2010. Expect excellent walleye fishing in the Good Hope Bay area.  We found an extraordinary number of walleye in our fall fish sampling in 2009. That will translate to great fishing from April 15 to June 15 in the upper lake.  For the rest of the lake walleye will only be caught in modest numbers during the same time frame.  A great technique is to troll medium running lures along mud washed points in the main channel during May.
Crappie are the other bonus. Dense brush has allowed the species to come back in big numbers over most of the lake. Crappie will spawn in April and early May. Use small plastic or marabou jigs fished right in the densest cover to catch these tasty pan fish.
This is obviously a very enthusiastic report. The only detractor may be that forage and cover are too good. That makes it easy living for a fish and harder for anglers to catch fat fussy fish. But this is an accurate assessment of what to expect in 2010.  I invite you to come to Powell and match wits with any of the eight species of game fish that are thriving here this spring.  There will be enough fishing action to make ever trip worthwhile.
See you on the lake.
Compliments of Waynes Words – Wayne Gustavson Chief Biologist.