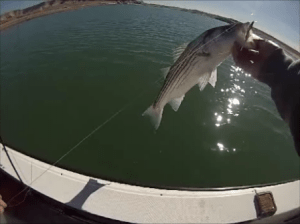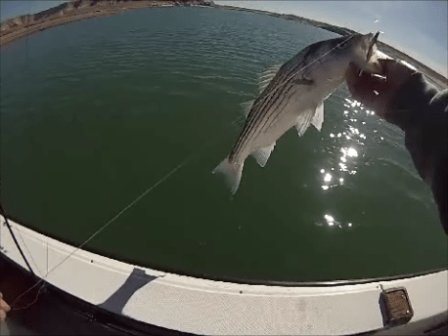 Lake Powell winter Florida Style Fishing for "hefty" Stripers
Bait fishing is done.  Fly, spin and trolling is now the ticket.  Fly Fishing the tree line is best and boat placement wind and light is very important.  Fly Rods recommend:  7-8 wt. medium fast action- 20′ medium sink line or full clear fluorocarbon 6′ leaders 20lb test (1x) 3″ chartreuse clausers.
Spin:  6.5-7′ medium action spin/bait cast – 15 lb. fluorocarbon or fluocarbon leader attached.  Reaction baits that will dive 10′ (chartreuse & white) and these are good trolling lures and depths as well.
Fish all points close out to 20′ of water and bump the mud when out of the submerged tree line.  Bring "extra" of everything.  Water temps are averaging 54-59 if whater gets into the 40 degrees, this could all change abruptly.  So far though, a mild winter has brought good fishing.
For our latest Video on Fly Fishing visit Facebook:  https://www.facebook.com/#!/LakePowellFishing or go to You Tube: http://youtu.be/lx4j-ptvfyU to view.
Tight Lines
Capt. Bill