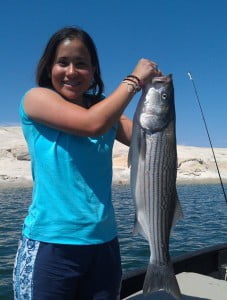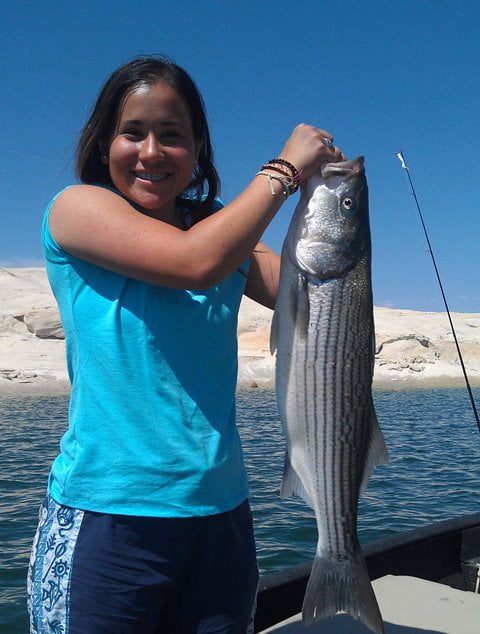 Lake Powell Fish Report – April 30, 2013
Lake Elevation: 3596
Water Temperature 58-67 F
By: Wayne Gustaveson
http://www.wayneswords.com
Spring Fishing Peak!  Now is the time to catch any of the Big Six sport fish in Lake Powell.
In Alphabetical order:
Catfish:  Hitting bait at night on the sandy beach near camp where the boat is parked.

Crappie:  These schooling fish are a bit lost without brush.  While males are making nests in the dirty water at the backs of canyons and coves, many more crappie are schooling in open water in the back of canyons. The key to finding fish is to look for a significant color change from muddy to lightly muddy.  Crappie feel more comfortable when protected by brush but without that, they seek the cover of murky water where they may hide and feed on smaller fish.  Slow trolling and casting small plastic crappie jigs in 4-6 feet of water is the most productive technique.

Largemouth Bass:  Like crappie, bigmouth bass prefer to hide in brush. Failing that, they will use deeper water where visibility is lessened.  Normally, casting to the shoreline is the best bass technique but now drifting along shore and fishing the bottom 10 feet off shore and 10-20 feet deep is better. Look for anything resembling a bush or tall rock that may harbor a bass.  Of course, nesting bass can be seen and caught at their chosen nest location.

Smallmouth Bass: Spawning bass are now found in shallow water over the length of the lake.  The best spot is on the breaking edge of a shallow flat leading toward deep water. Find the edge of big rocks, small terraces, rocky points, or better yet, just go look for nests that are so obvious in the clear shallow water all along the lake shoreline.  It is sight fishing time for bass!

Striped bass: Seriously? From Moki Canyon to Glen Canyon Dam pull up to the main channel wall, drop anchovy bait, and catch fish after fish.  Bait fishing is much better in the south but now Moki and Lake Canyon near Bullfrog have turned on too.  There are stripers all along the shallows where bass anglers catch them on grubs, cranks and spinner baits.   They are in deep water in open bays where they can be caught on spoons and swim baits. They are at medium depths near the mouth of coves where trolling shallow to medium runners is very effective. If you don't catch stripers at the first spot just try a couple more places in the same area to find a waiting school.  The best bait fishing spot in the south is near Buoy 25 in the south shoreline slick rock coves. Best bait spot midlake is Moki Wall. Best trolling spot in the north is mouth of White Canyon.

Walleye: For all night owls- walleye are very active after dark in the same areas where bass are found in the day time.  The sure technique for me is to get out before first light and fish the mouth of coves at a depth of 12 feet to find hungry walleye.  This early morning bite is very dependable but it slams shut as soon as the sun hits the water. Fish the eastern slope in the shade of steep walls to prolong the bite an extra hour.  Muddy water from White Canyon to the Horn is particularly good for walleye
In summary, this is the peak of spring fishing.  There is no reason to wait. Try to get here as soon as possible to take advantage of the ideal conditions now occurring.  Water is stable and warming. Weather is good without high winds in the forecast.  Now is the time. Have Fun!