Lake Powell Fish Report – March 27, 2013
Lake Elevation: 3599
Water Temperature 51-55 F
By: Wayne Gustaveson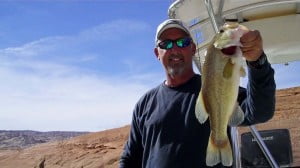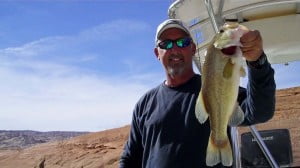 Photo: Brian Myers, Colorado angler, caught some good largemouth bass in the northern lake on slow rolling spinner baits.  Stripers are going crazy for bait at Glen Canyon Dam while other species are being steadily caught in 20 feet of water in the northern lake.
Striped bass near Wahweap and Antelope Marinas have made the move from the back of  canyons, where they spent the last 5 years, to the deep main canyon where they will now reside until shad spawn in May and June.  For the next two months it will be possible to find stripers ready and willing to eat anchovy bait at many southern lake locations.
Those that fished the lake before the huge brush forest went under water remember the good old days of bait fishing at the dam, power plant intake, buoy 9, double island points in Navajo Canyon, Warm Creek Wall, and many other deep channel locations.  All those spots will be good again either now or in the weeks to come. Today it is possible to go to the dam forebay or power plant intake, find a school, and catch MANY stripers.
The technique is simple.  Striped bass often follow the canyon wall. Move parallel to and a long cast away from the wall.  Periodically toss a handful of chum while fishing where the chum is descending. It may be necessary to allow the chum to get down 70 feet before the school lights up and moves shallower.  When searching for deep stripers drop bait straight down 50-70 feet on a lead head jig or drop shot rig. Shallow stripers often avoid the boat so have another angler cast bait as far as possible. Keep the line tight and force the bait to settle slowly toward the boat while it covers the upper 20-30 feet of water. Using both techniques simultaneously will ignite a deep school under the boat or corral a shallow school well away from the boat but in shallower water.
You may have forgotten, so I am reminding you that stripers can see braided line or heavy monofilament fishing line. If using either of these it is imperative to attach a 3-5 foot length of fluorocarbon leader just above the hook. It has been proven many times that stripers can be caught every cast when an active school is under the boat when using fluorocarbon.  Those using monofilament will catch fish much less often while those using straight braid will not catch any fish.
Fishing in other areas of the lake is slower but improving.  The key in the mid or northern lake is to find warmer protected water where bass, crappie, stripers and walleye will be searching for food. Water color is important with murky water warming faster than clear water.  The best spring time water color is green, followed by brown, with clear water being the least productive. As morning water temperature increases to 57 and above fishing success in the upper lake will improve dramatically.  This week look for any weed or brush in the water. Tumbleweeds are about the only cover found in the southern lake. Fish straight down in 15-25 of water with drop shot rig and a Yamamoto shad shaped worm or Zoom fluke. Open water reefs will often produce more fish than shoreline areas.
But for this week the place to be is at Glen canyon Dam each morning and evening.  Fish go deeper at mid day and are harder to find.  Catch and keep a striper to keep Lake Powell fisheries thriving.