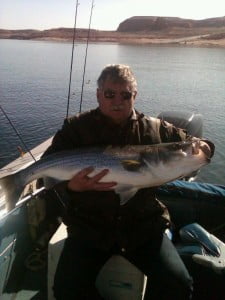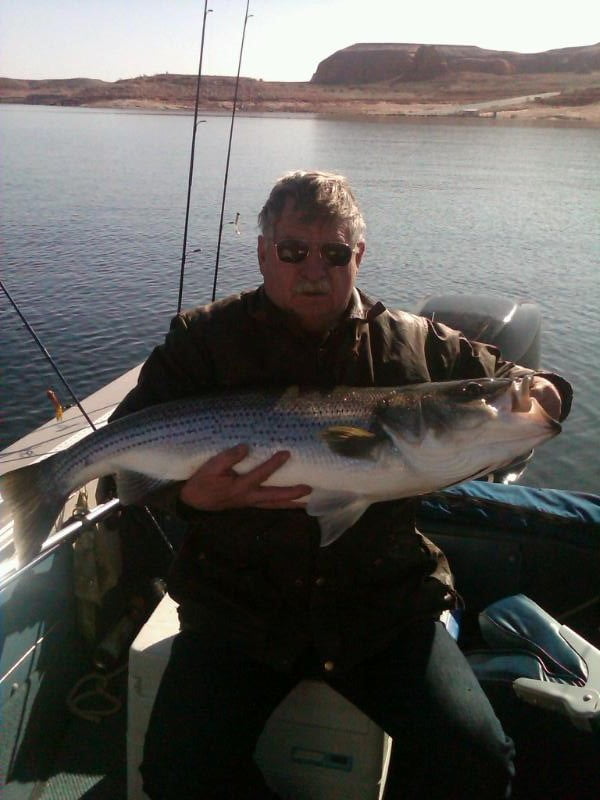 Striped bass trophy caught by Rich Cromwell of Silt, CO.  Bouncing tube jigs in 40′ of water across from Halls Ramp. Approx 8:30AM, 3/10/2012. Water temp 49.  Our scale went to 24#, it max out. Fish estimated at 28 pounds.
High res photo: Kip Bennett. Page AZ, caught this 9 lbs 13 oz striper in Warm Creek on an Alabama rig. Many stripers heavier than 5 pounds have already been caught at Lake Powell and many more will follow this year as big fish are numerous and continue to grow
Spring weather has arrived with air temps in the 70s and water warming to 60 degrees in the shallow muddy floodplains. But as always happens in the spring, cold fronts erase the warming as water returns to the base temperature after windy conditions or a cold night.  Base temperature is now near 50 degrees and will remain there during the coming cold weather front expected next week.
The general pattern for success remains the same.  First look for murky green water in the backs of canyons and coves.  Cloudy water will be slightly warmer than clear and instantly attract cold-blooded fish.  Clear water is not as productive when water is cold.  Second, most fish are associated with brush thickets. Brush can be seen along most of the shoreline but the key to fishing success is to find submerged brush hidden 5-10 feet under the surface.  Third,when in the right spot find a way to successfully fish brush.
Bass anglers have long known about lures that can be cast into the tangle of limbs and then successfully retrieved.  However, this concept is not ingrained in open water striper fisherman.  Here are some new things to try.  Spinner baits are made for brush and are proven tools. Plastic baits can be rigged with the hook buried in the plastic so the lure can be pulled gently through limbs with frequent pauses.  The most effective method this week has been retrieving crankbaits over and around treetops by trolling or casting.
In most tributary flood plains each grove of trees grew to similar heights.  Now most trees within a particular grove are at uniform depths under the water surface.  Graph the forest. Determine treetop depth and then choose a lure that will run through the trees tops. That depth varies from 5 feet to 15 feet depending on the grove.  Small rattletraps, shallow jerk baits and shallow runners will run at 5 feet or less.  Most lures run at 8-12 feet. These will snag occasionally so bring a spare. Of course there will be an occasional tall tree in every forest so all trolled lures will snag in the limbs close to the surface.  Some snags just cannot be avoided.
Why not just troll away from the trees?  That works great for not losing lures but not so great for catching fish.  Most feeding fish live in the trees.  The groves are the most productive spots.
There are exceptions of course.  A bass angler was bouncing tube jigs on the bottom at 40 feet near the Halls boat ramp when a 25-pound striper inhaled the bait.  He landed the trophy and now leads the parade with the largest striper caught this year.  This fish is larger than the 5-10 pound fish that are being caught in the southern lake.  There will be many more "big fish,"  5 pounds and better, caught as spring progresses.
This will be the year of the Big Fish at Lake Powell.