Lake Powell Elevation 3573.64
The stripers are in the best condition in decades due to the huge shad bloom in decades. With 77 degree water, it has put the schools in gear and you just have to go find them.  top water Zara spooks and deep diving shad crank baits for trolling.  This is good for the fly rod enthusiast as well as you can be versatile to do what's working with conventional but always ready to to switch when there on top busting shad.  Any clauses minnows or top water popper is good :  Yesterday Caden catching some big boys!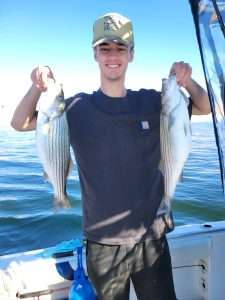 Yesterday's Catch 9-16-23
I kid you not, there are 8 & 9 lb. Wt. rod fish as we busted 6-8 lbs and lost many that pulled loose.  Keep in mind, some days will be a bus as water temps continue to drop.  Look for a few days to weather stability fish early or late afternoons and study your water hazards as it is still possible to tear up Skaggs and props too!  Not many seagull this year to see so pay attention to grebes, ravens and even coyotes that watch the water for stripper boil which will push bait fish into and onto the shoreline.
Hope to see you on the Pond soon and GOOD LUCK
Capt. Bill
Recent Photos
Fly Fishing Sept. 2023